Nissan ex-boss Ghosn released after 108 days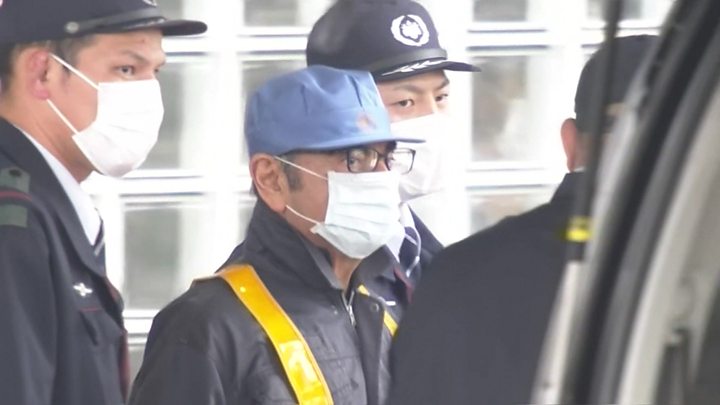 Former Nissan boss Carlos Ghosn has left prison in Japan on bail, more than three months after being arrested.
A Tokyo court made the surprise decision to allow his release on Tuesday, setting bail at 1bn yen (£6.8m; $8.9m).
Mr Ghosn has been charged with financial misconduct and aggravated breach of trust, but denies wrongdoing.
The 64-year-old left the detention centre surrounded by guards, wearing a cap and white medical face mask.
He was also wearing overalls and orange, reflective braces, making him barely recognisable by comparison with the smart-suit, shirt-and-tie attire he sported when running a global carmaking empire with 470,000 employees, selling 10.6 million vehicles in 2017 from 122 factories.
Strict bail conditions for Mr Ghosn, including video surveillance and restricted use of his mobile phone, were set for his release.
His computer access is restricted to his lawyer's office during weekday daytime hours.
As the architect of the alliance between Nissan and French carmaker Renault, he brought Mitsubishi on board in 2016. He then ran the alliance of the three global carmakers as both chief executive and chairman.
He has said his arrest was the result of a "plot and treason" against him – a bid by some Nissan executives wanting to stop his plan to integrate Renault, Nissan and Mitsubishi.
His previous requests for bail were rejected and his lengthy detention has drawn international criticism.
His imminent release from the detention centre, where he has been held since his arrest on 19 November, was signalled by the arrival of a car from the Embassy of France.
"Carlos Ghosn is being released. He is a French citizen. He will be able to defend himself with greater ease. So much, the better," French Finance Minister Bruno Le Maire told Europe 1 radio.
"But my responsibility as finance and economy minister is to make sure that hundreds of thousands of jobs at Renault and at the Renault-Nissan alliance are protected," he added.
Mr Ghosn was released after Japanese courts had rejected two previous requests for bail, saying the Brazilian-born executive posed a flight risk and could conceal evidence.
The latest bail request was filed by a new legal team. The case has attracted global attention and drawn criticism of Japan's criminal justice system, which allows for lengthy detention periods.
It is the first time the businessman, previously hailed a hero in Japan for turning around the ailing Nissan, has been photographed in public since mid-November. He had looked visibly thinner when he appeared in court in January for the first time since his arrest.
His status was such that his life was serialised in a Japanese comic book.
In a 2011 poll of people the Japanese would like to run their country, Mr Ghosn came seventh, ahead of Barack Obama, who was placed ninth.
Born in Porto Velho, Brazil, to Lebanese parents, he was once tipped as a potential president of Lebanon, a move he eventually dismissed because he already had "too many jobs".
The allegations against him have received widespread media coverage in Japan and also forced changes at the carmakers. Renault, for instance, has altered its governance structure to separate the roles of chairman and chief executive.