Kingfisher boss to go as profits fall further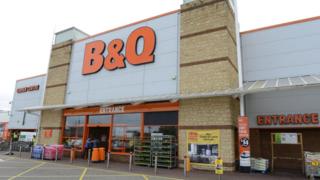 The boss of struggling DIY group, Kingfisher, which owns B&Q and Screwfix, is to step down amid worsening profits.
Veronique Laury, who had been overseeing a turnaround plan, will leave the company, although no date was given for her departure.
Profits fell 13% over the last year, with the firm's French chain, Castorama, dragging down sales.
The firm also announced it would close all 19 Screwfix outlets in Germany.
It said it was considering the closure of 15 further stores.
Kingfisher, which also owns the Castorama and Brico Dépôt chains in France, is three years into a five-year restructuring plan, dubbed "One Kingfisher".
The firm said sales at existing stores, known as like-for-like sales, fell 1.6% over the year, although overall sales were 0.3% up.
Growth in Screwfix and Brico Dépôt in France and Poland was offset by poor performances at B&Q in the UK and Castorama in France.
In November, the firm announced it was pulling out of Russia, Spain and Portugal altogether, as part of the plan to simplify the business.