Food outlets 'should list all ingredients' says food agency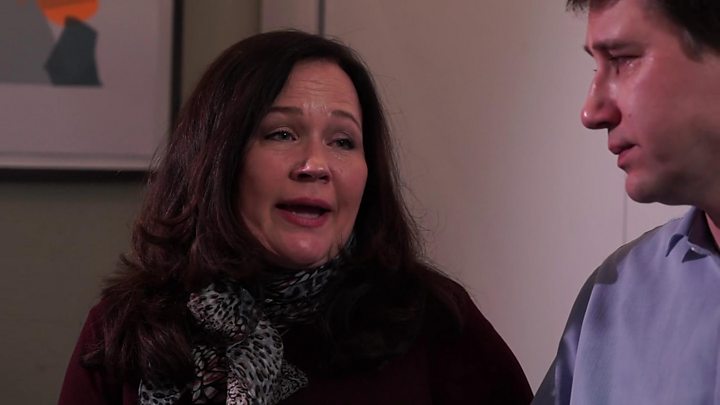 Food outlets should list all ingredients in order to protect customers with allergies, the Food Standards Agency (FSA) has proposed.
The FSA has recommended ministers adopt strict new rules, which include highlighting the 14 major allergens.
The proposals follow the death in 2016 of Natasha Ednan-Laperouse, who had eaten a sandwich from Pret a Manger.
Pret a Manger said it supported the FSA's recommendations.
The government said it welcomed the agency's input, adding: "We are working at pace to bring forward legislation that ensures food allergy suffers can feel safe and secure."
FSA chairwoman Heather Hancock said the FSA had chosen the strictest of the options they had under discussion because "ultimately this is a life-threatening issue for a proportion of the population".
However she acknowledged that there was a risk that business might find the new rules onerous and might consider not serving people with allergies altogether.
"We are balancing consumer protection, public health protection, with the ability of people being able to deliver good business service and choice for people with an allergy or intolerance," she said.
The Department for Environment, Food and Rural Affairs will have the final say over whether new rules are introduced.
The FSA board discussed several options, ranging from light-touch intervention of promoting best practice in the food industry to requiring firms to list the 14 most common allergens.
---
Which sandwich will be labelled?
Supermarket sandwich: already has to list full ingredients including allergens
Over-the-counter sandwich: if it's made to order in front of you, it doesn't currently need a label. This will not change under the new plans.
Pre-prepared sandwich: if it is made on the premises, it doesn't currently need a label, just a sign nearby prompting customers to ask about allergens. But if these recommendations are adopted, any sandwich that is wrapped and picked from a shelf will need to carry a label listing all ingredients, and highlighting major allergens
---
If ministers choose to proceed with the recommendation, food outlets will be required to provide a full list of ingredients on each product, highlighting nuts, eggs and dairy and other products that are frequent allergens. However sandwich shops that make up food at the point of sale will not have to provide the labelling, since it is assumed a conversation will take place between staff and customer. They will still need to display signage, telling the customer to ask for allergen information if they need it.
Ms Hancock said businesses had voiced objections to the proposal, saying it would push up costs. She said the intention was to provide the food industry with the time to implement the changes, and to provide support for smaller businesses.
While the new policy would improve customers' trust in the food they were buying, the FSA admitted it would also introduce a risk of "mislabelling incidents, particularly in busy kitchen environments". The FSA said it might also lead to businesses removing some foods from their menus and limiting changes to menus to avoid the costs of extra labelling.
The proposed changes follow the death of Natasha Ednan-Laperouse, who had an allergy to sesame seeds and died after eating a sandwich from Pret a Manger.
Natasha's parents, Nadim and Tanya Ednan-Laperouse described the FSA's recommendation to introduce stricter labelling as "a momentous decision".
"Business must always listen to its consumers particularly in matters of life and death.
"It is now for government ministers to implement legislation to save lives. We are now one step nearer to making Natasha's Law a reality. A label saves a life."
Ms Hancock said it was impossible to eliminate risk entirely and that food safety relied on a "layering up" of protection, by providing labelling, staff training and customers taking personal responsibility.
Michelle Victor from law firm Leigh Day, who is representing Mr and Mrs Ednan-Laperouse, said: "Business should now embrace change and work on how they are going to implement full ingredient labelling.
"We encourage the government to follow these recommendations from the FSA and implement Natasha's Law this year."
A Pret A Manger spokesperson said: "After careful piloting, we have begun our nationwide roll-out of full ingredient labels on all our freshly made products, which will be complete this summer.
"It hasn't been an easy transition for our business so we remain committed to sharing what we have learnt so far with government, regulators and industry."