Greenpeace activists inside boxes block BP headquarters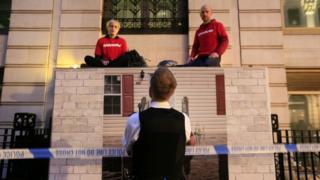 Climate activists inside five large containers have blocked the entrances to BP's head office in central London.
The Greenpeace protesters used cranes to transport the heavy boxes into place at St James's Square in the early hours of the morning.
Other campaigners abseiled down the side of the building to block windows and display banners.
Greenpeace says those inside the containers have enough food and water to last them for several days.
The aim is to keep BP's headquarters closed "for at least the whole of this AGM week", Greenpeace said. BP's annual general meeting is set to take place in Aberdeen on Tuesday.
Greenpeace said it was carrying out the action to call on BP to end exploration for oil and gas, and only invest in renewable energy.
One campaigner, Morton Thaysen, told the BBC the group was planning a "long-term occupation of BP's headquarters".
Four people have been arrested for aggravated trespass after some protesters scaled the building.
Officers from the Met Police are in St James's Square and said there had been no reported injuries.
At the scene
Becky Cafe, BBC London
As far as protests go, this doesn't have the energy of the recent Extinction Rebellion demonstrations that closed off main arteries in central London. Then, it was very difficult to avoid the sound systems and banners.
This time it's a very quiet protest tucked down a side street just off a main road leading to Piccadilly Circus. This has meant little disruption to businesses, shoppers and tourists.
However it has disrupted the protesters' intended target, BP, as staff are unable to enter the building and have been told to work from home.
The boxes have been custom made to fit perfectly in the space in front of every entrance to BP's offices, other than the fire exit.
Inside each box are two Greenpeace protesters with more sitting on top, looking around.
But as the police have cordoned off the entire road, it is very difficult for people to see what's going on so you wonder how long the protest will have an impact.
In a statement, BP said: "We welcome discussion, debate, even peaceful protest on the important matter of how we must all work together to address the climate challenge, but impeding safe entry and exit from an office building in this way is dangerous and clearly a matter for the police to resolve as swiftly as possible."
A company employee said staff had not been told what was happening.
"I'm thinking to go home because it will take the police a while to get the protesters abseiling off the building," the staff member said.