Lowe: Ten NBA things I like and don't like, including what happens when Kawhi Leonard sits
We highlight the flaws of Kristaps Porzingis and Paul George, two rookies showing their stuff and free throw comedy….
Let's turn the page with 10 NBA things:
The Dallas Mavericks have exceeded even the expectations of those of us who picked them to make the playoffs. Luka Doncic looks to be a generational superstar. The role players all complement Doncic and Porzingis — a perfect mix of gunners, 3-and-D guys with some off-the-bounce verve, versatile bigs, old-school point guards, and grunt-work toughs.
Porzingis thrived during Doncic's brief absence, reestablishing himself as a capable fulcrum.
Alas, he still hasn't developed as a passer. Good passers internalize the patterns of the game. They know where cutters should be before they get there. They understand how the defense is about to rotate, and throw the pass that cuts against those rotations.
Porzingis can be a beat behind reading the game. This seems like a minor issue given his role as more of a finisher. But the best defenses force opponents to make three, four, and five passes, and the fate of a possession often depends on those passes in the middle.
It will be especially interesting how Porzingis responds as a release valve if more teams trap Doncic:
Blah passing is one reason Porzingis has struggled in the post. The Mavs have scored a horrific 0.58 points per possession anytime Porzingis shoots out of a post-up, or kicks to a teammate who fires — 88th among 91 players who have recorded at least 25 post-ups, per Second Spectrum.
Only 4% of Porzingis' post-ups have resulted in him dishing an assist — one of the league's lowest marks.
Rick Carlisle was correct that the post-up is no longer an efficient scoring option. (I wish retired players who urge every big man to play like Hakeem Olajuwon would acknowledge, just once, that rules governing how teams defend post-ups are completely different than they were in the 1980s and 1990s. Just once.)
But it's a handy tool. Not even the Mavs — on pace to produce the best offense ever — will get everything they want against postseason defenses. On a bunch of possessions, they will have to make something from nothing. Porzingis improving his passing out of the post — at least against switches — would help.
Next season may be the litmus test. This season is for getting reacquainted with the grind after almost 20 months away, and Porzingis is banged up right now.
The Clippers are as advertised: 14-4 with both Kawhi Leonard and Paul George available, one of only five teams in the top 10 in both points scored and allowed per possession.
There is one small glitch. Six seasons ago in Indiana, Frank Vogel told me he had banned George from trying to split traps on the pick-and-roll; George too often turned the ball over squeezing through narrow corridors.
That proved prescient. George has always been just a little out of his depth as lead ball handler against elite defenses. He is about as good as it gets next to a more ball-dominant star — Russell Westbrook in Oklahoma City, and now Leonard.
George has coughed up the ball on 12.8% of his pick-and-rolls, 10th worst among 152 ball handlers who have orchestrated at least 100 such plays, per Second Spectrum. George is also running more of them than ever: 29 per 100 possessions, shattering his prior season high of 19.
That number spikes to 35 when Leonard sits. The Clippers in those minutes have turned the ball over on 17.7% of their possessions — a mark that would rank dead last among all teams.
Splitting traps remains an issue. Pocket passes in traffic come a beat early or late, and often land around the feet of his target.
The Clippers' style — methodocial, heavy on isolations — is meant to deflate turnovers. Any slice of their rotation chipping away at that design could undermine them when it really matters.
The Clippers are a little light on ballhandling. They will surely scour the trade, buyout, and free agency markets. (Hello again, Darren Collison!) But even if they do nothing, this shouldn't be a fatal weakness. Perhaps the Clippers could toggle rotations so both Lou Williams and Patrick Beverley are on the floor with George while Leonard rests.
Casual fans might be surprised how fun the Bucks are even when Giannis Antetokounmpo rests. They put five smart players into a general framework — everyone spot up around the perimeter, including you, Robin Lopez! — and let them improvise from there.
What follows is a cascade of random screens, cuts in every direction, and give-and-go plays. There is nothing complex. It is just basketball players playing basketball, and it is awesome. Milwaukee has outscored opponents by eight points per 100 possessions with the MVP on the bench.
Every member of those lineups brings something different. DiVincenzo's success is perhaps most notable, since he looked vaguely bust-ish over 411 minutes as a rookie. Rivals wondered if the Bucks might deal DiVincenzo for nothing. Milwaukee officials privately expressed optimism.
DiVincenzo looks at home when the game is moving fast. He plays on his toes. He has a knack for slicing into open space at the right moment, and snaring offensive rebounds.
That feel translates to defense. DiVincenzo is a canny weakside helper. He's an expert feigning a full rotation toward one open shooter, unnerving that guy into a fatal pause, and then hopping into the next passing lane:
He seeks out contact. You are not getting an uncontested dunk if DiVincenzo is the designated helper:
DiVincenzo is still shooting just 32% on 3s. We'll see how much run he gets in the postseason. George Hill is shooting infinity percent from deep. Pat Connaughton brings more all-around oomph. Sterling Brown — too often relegated to the fringes — has matched DiVincenzo's mark on 3s, and can defend four positions. Kyle Korver has earned Mike Budenholzer's trust. The Bucks have so much wing depth, they may well try to consolidate some — and perhaps that first-round pick coming from Indiana — for another true power forward.
For now, DiVincenzo has been a capable bench cog and fill-in starter.
4. Bruce Brown, making the best of it
Brown isn't qualified to be a starting point guard. He was never supposed to play that role. Even as a nominal starter amid Reggie Jackson's interminable injury issues, Brown was intended to serve mostly as a 3-and-D spot-up guy while Blake Griffin, Andre Drummond, and Luke Kennard did the heavy lifting.
Griffin's injuries forced Brown to do more, and the early results were predictably bad. He sometimes had trouble just getting Detroit into its offense. Entry passes were an adventure.
But Brown persevered. He developed more confidence off the bounce. Detroit got a little healthier, though good health never seems to sustain there. A story of a player in over his head took a twist.
Brown is shooting 35% from deep and dishing almost four assists per game — triple his mark from last season, and more than the Pistons really had any right to expect. He is decisive blowing by defenders rushing to close out on him, and bull-rushing toward the rim.
More than half of Brown's shots have come within the restricted area, a share that ranks in the 98th percentile for his position, per Cleaning The Glass.
He remains a bulldog on defense across all three perimeter positions. Detroit's old starting five with Brown, Kennard, Griffin, Drummond and Tony Snell has outscored opponents by a monstrous 19.5 points per 100 possessions. Only three lineups that have logged at least 100 minutes have fatter margins.
Brown has come off the bench some of late, and formed a productive partnership with Derrick Rose.
A lot has gone wrong for the Pistons. Most of it stems from injuries to players acquired by the old front office. Plucking Brown with the 42nd pick in 2018 might end up a small — and meaningful — win.
5. Tyler Herro's one-on-one defense
Herro has blown away rookie expectations for his draft slot. He's shooting 39% on 3s, including a scorching 49% on catch-and-shoot attempts.
He can generate enough space to launch off the bounce — including with a long-distance step-back — and even run a functional pick-and-roll in a pinch. He's tough, too. He loves lunging into rebounding scrums.
One worry: He's a little flat-footed and upright on defense — prone to dustings.
Herro is long enough to challenge some of those shots from behind. He has solid feel. He should grow into a smart team defender. In the meantime, the Heat can hide him some in a zone.
But opponents will likely hunt him some in the playoffs.
The Bulls drafted Dunn's alleged long-term replacement, though Coby White has so far profiled more as unrepentant bench chucker than starting point guard. They then signed Dunn's short-term replacement — Tomas Satoransky — in free agency.
A trade seemed inevitable. Dunn had every reason to check out.
Instead, he doubled down on the skill that will keep him in the league: hellacious, in-your-jersey defense on and off the ball.
A lot of offenses use handoffs to trigger possessions. Most defenders are content to let their guy take that handoff and chase from behind.
Dunn concedes nothing. Against Detroit two weeks ago, Kennard grew so frustrated with Dunn's refusal to yield an inch — to get out of Kennard's damned way — that he simply shoved Dunn in plain view of the referee:
Sometimes, Dunn plants himself between his man and the ball and snuffs the handoff before the offense even bothers trying:
That is a 12-second masterpiece. Chris Paul — Chris freaking Paul — gives up on approaching Steven Adams for a handoff. Adams pivots into a two-man game with Danilo Gallinari, who then lopes around a screen from Paul. Dunn cuts off Gallinari, zips back to Paul, and obliterates Paul's drive.
Dunn leads all rotation players in both deflections and steals per 36 minutes. He's at three steals per 36 minutes, on pace for one of the great seasons of thievery in league history; only 24 players have cracked the three-per-36 mark in 42 combined seasons.
Dunn still can't shoot, but he has compensated by getting to the rim more. About 42% of his attempts have come within the restricted area, a 90th-percentile share among guards, per Cleaning The Glass.
Chicago has allowed only 100 points per 100 possessions with Dunn on the floor — one point stingier than Milwaukee's league-best defense. They force turnovers at a ludicrous rate when Dunn plays.
Chicago forces more turnovers than anyone, by a wide margin. They are on pace for the highest opponent turnover rate since the 2011-12 Grizzlies, per Basketball-Reference. The 13-22 Bulls are somehow fifth in points allowed per possession.
That probably makes their defense sound a little better than it is. Just a point separates fifth and 10th. The Bulls have played the league's third-easiest schedule. Their blitzing scheme yields a ton of shots at the rim and corner 3s; some pain may be coming.
But Chicago's opponents are not shooting some ugly outlier percentage on those looks. Chicago's scheme is designed to force turnovers — and get their pathetic offense some transition looks — and in that sense, it is working. It wouldn't work without a ball hawk like Dunn filling Otto Porter's spot in the starting lineup.
7. De'Anthony Melton, doing stuff, and the Grizzlies' fun bench bunch
Melton was intriguing enough as a prospect — a long, versatile stat stuffer who might pop if he refined his jumper — that there was a collective "uh oh" when the Rockets selected him with the 46th pick in 2018. Houston loves numbers, and they would let Melton chuck.
He never played a game for Houston; the Rockets flipped him to Phoenix, who essentially swapped him for Jevon Carter last summer. That part of Phoenix's larger salary dump with Memphis puzzled most league insiders.
But over the first month of this season, Carter played while Melton languished. Ja Morant's brief injury opened a spot in the rotation, and Melton has since been a mainstay of the league's most delightful ragtag bench unit. Playing almost all of his minutes next to a traditional point guard — Tyus Jones — has helped; Melton can get a little overwhelmed as conductor. He's at his best sticking to the simple play — kickouts to Jaren Jackson Jr., and pocket passes to Brandon Clarke for Clarke's patented stop-on-a-dime pogo-stick floaters.
Seriously: Clarke is shooting 63% from floater range, which ranks in the 99th percentile among bigs. The potential power of the Jackson-Clarke duo lies in their ability to swap roles; either can screen and slice to the basket while the other spots up. Taylor Jenkins almost always has one big in the corner, and Clarke has hit half his corner 3s.
Melton is stepping into catch-and-shoot 3s with confidence; he has hit 34% from deep. He's a demon in transition, and a capable secondary playmaker. He's a smart cutter with a picturesque scooping finger roll.
He's a menace on defense. His long arms are everywhere. He's snaring almost three steals per 36 minutes, and ranks fifth among rotation players in deflections per minute. Melton has rebounded 12% of misses while on the floor, the highest rebounding rate among players listed at 6-3 or under. (Melton is 6-2.)
Grayson Allen, a villain from a 1980s college romp movie who somehow became an NBA player, is on fire from long range. Solomon Hill is having another boom contract year as a sweet-shooting small-ball power forward. (Maybe he should just cycle through one-year deals?)
Memphis is a comical plus-80 in 162 minutes with both Melton and Jones on the floor, per NBA.com. Seriously: Give the Grizz a watch. Between Morant and this wackadoo bench, you won't regret it.
There are more and more nights when Porter looks like the most interesting Cleveland prospect. He already has a higher assist rate than Collin Sexton, and he's just a hair behind Darius Garland.
Porter flashes the change-of-pace guile of a veteran. He turns the corner on screens, and pauses mid-dribble — leaving an antsy defense to guess at his intentions. Once they sell out for one option, Porter chooses another:
He can make plays moving in either direction, with both hands.
There is a long way to go, obviously. Porter is shooting just 30% from deep, and it's unclear how he might fit long term around both Sexton and Garland. He can be a little contact-phobic; Porter has a weird habit of sneaking around screens, pinning his defender on his hip, and then surrendering that advantage by moonwalking into a fadeaway. Porter averages just 1.6 free throws per game.
He has also turned the ball over on 13.2% of his pick-and-rolls — fifth worst among 149 players who have run at least 100 such plays, per Second Spectrum.
But with players so young, you are really looking only for occasional signs they can read the game from one step ahead. Porter has shown some.
9. Rip City at 50
I love everything about Portland's anniversary throwback look. The "classic" red jersey, with that gloriously kooky — off-center, vertical, lowercase — "blazers" wordmark is an homage to the 1977 championship team.
Their white "city edition" duds, with a lowercase "rip city" across the front, are a mash-up of multiple historic jerseys — with some new elements. Pulling from that many sources risks creating a mutant. This baby sings. The triple striping down the sides — thick red, skinny white, thick black — really pops, and sets this jersey apart.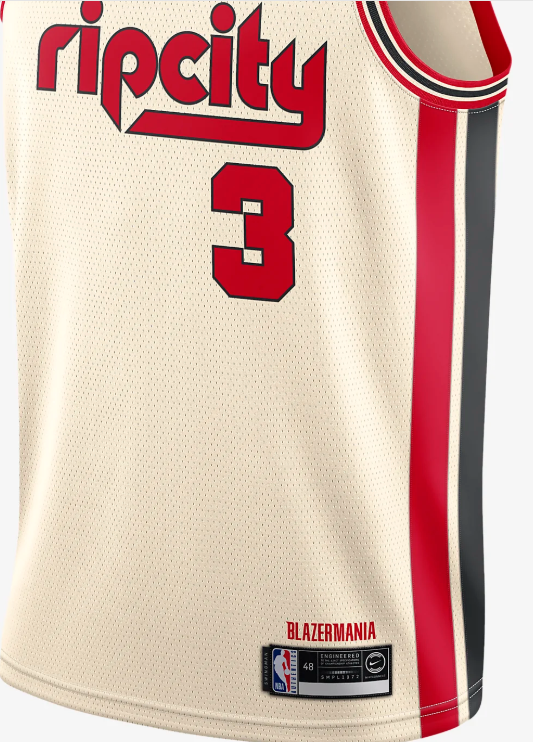 The Blazers also busted out a new court: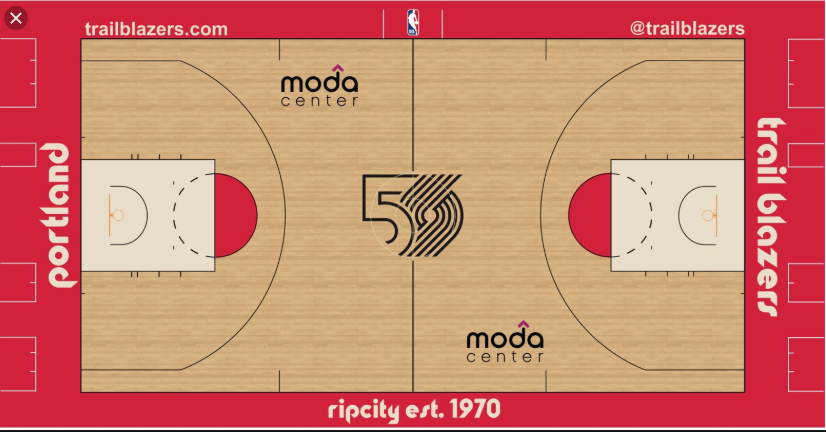 White paint is a gamble. I'm not sure it works in most places. I'm not even sure it works in Portland for more than a season or two. But it does work. The contrast between the white paint, black lines, and red half-circle is pleasing. It helps that the Blazers used a white painted area during the Clyde Drexler era.
And turning the team's pinwheel logo — maybe the very best in basketball — into the "0" in the "50" at center court? Come on. That's almost too good.
Boston's classic green jersey is the single best uniform in the league. They might have the snazziest court, though I prefer the Lakers' floor. But the Blazers and Sixers are neck-and-neck for best top-to-bottom art. They almost never miss.
10. DeMar DeRozan continuing an important tradition
The DeRozan era in San Antonio has been meh, but at least DeRozan continued an important tradition from Toronto: ghost high-fives (fist bumps this time!) on technical free throws.
DeRozan has always taken this mimicry seriously. He doesn't extend air high-fives in random patterns. He steps forward to an imaginary teammate on the left, and then to another on the right. He even dodges a referee who shows zero respect for DeRozan's process.
The joke fails if DeRozan isn't committed to ultra-realism.
Speaking of free throw antics: My friends on The Jump have made great sport of Al Horford's weirdo habit of flinching at free throw rebounds. But did cameras catch Horford trying to distract Rudy Gobert two months ago with a sudden upward jerk of his arm?
Is there a method to Horford's madness?