Defending champ Sky on ropes as Liberty win G1
The New York Liberty closed on a 13-0 run to beat the defending champion Chicago Sky 98-91 on Wednesday night in…
Notice
: Trying to get property 'display_name' of non-object in
/home/techyesp/public_html/wp-content/plugins/google-analytics-dashboard-for-wp/includes/popular-posts/class-popular-posts.php
on line
356
Notice
: Trying to get property 'display_name' of non-object in
/home/techyesp/public_html/wp-content/plugins/google-analytics-dashboard-for-wp/includes/popular-posts/class-popular-posts.php
on line
356
Notice
: Trying to get property 'display_name' of non-object in
/home/techyesp/public_html/wp-content/plugins/google-analytics-dashboard-for-wp/includes/popular-posts/class-popular-posts.php
on line
356
Notice
: Trying to get property 'display_name' of non-object in
/home/techyesp/public_html/wp-content/plugins/google-analytics-dashboard-for-wp/includes/popular-posts/class-popular-posts.php
on line
356
Notice
: Trying to get property 'display_name' of non-object in
/home/techyesp/public_html/wp-content/plugins/google-analytics-dashboard-for-wp/includes/popular-posts/class-popular-posts.php
on line
356
Notice
: Trying to get property 'display_name' of non-object in
/home/techyesp/public_html/wp-content/plugins/google-analytics-dashboard-for-wp/includes/popular-posts/class-popular-posts.php
on line
356
Notice
: Trying to get property 'display_name' of non-object in
/home/techyesp/public_html/wp-content/plugins/google-analytics-dashboard-for-wp/includes/popular-posts/class-popular-posts.php
on line
356
Notice
: Trying to get property 'display_name' of non-object in
/home/techyesp/public_html/wp-content/plugins/google-analytics-dashboard-for-wp/includes/popular-posts/class-popular-posts.php
on line
356
Notice
: Trying to get property 'display_name' of non-object in
/home/techyesp/public_html/wp-content/plugins/google-analytics-dashboard-for-wp/includes/popular-posts/class-popular-posts.php
on line
356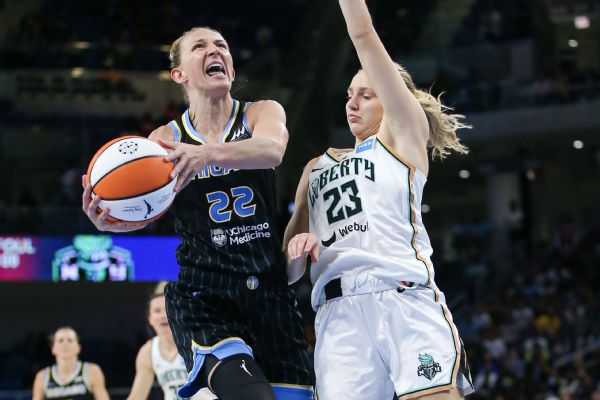 CHICAGO — The New York Liberty moved into the driver's seat of their first-round series against the defending champion Chicago Sky with a 98-91 victory in Game 1 on Wednesday night.
The Liberty trailed by six points with three and a half minutes left but were sparked by an impressive assist from guard Marine Johannes that started a 13-0 run to close the game.
Johannes hit forward Natasha Howard with an improbable over-the-head, no-look pass as Howard broke free to the basket for an easy layup.
It was the kind of pass Howard learned to stay ready for, even if she wasn't expecting it, while playing with a WNBA legend on her previous team before joining the Liberty.
"It kind of reminds me of a Sue Bird pass," Howard, who played with Seattle from 2019 to '20, said after the game. "So it brought flashbacks a little bit."
Following Johannes' assist, the Liberty went 5-for-5 from the field to finish the game, securing the franchise's first playoff victory since Sept. 23, 2015.
Howard and Liberty guard Sabrina Ionescu each had a game-high 22 points as New York set a franchise record for most points in a playoff game.
"We battled all game through ups and downs," Ionescu said. "We were down pretty big there in the fourth and we just continued to chip away. I think it was more just this proud feeling of we came here and we did what we needed to do. And what nobody believed we could do."
A loss puts the Sky on the brink of elimination in this three-game series after Chicago went scoreless over the final 3:32 Wednesday.
The Sky shot 0-for-8 from the field down the stretch, including 0-for-5 from 3, and missed a pair of free throws. They had their chances throughout the fourth quarter but went just 2-for-9 on wide-open looks, according to research by ESPN Stats & Information, including 0-for-6 outside of 2 feet.
"We were down and trying to get back, and I don't know, I feel like we haven't panicked all year, and tonight we might have a little bit," Sky forward Azura Stevens said after the game. "Which is a little uncharacteristic for us. But it's OK, we'll be better on Saturday."
Five Sky players scored in double figures, led by Kahleah Copper with 21 points, but the Sky couldn't score down the stretch or get a stop on defense. The 98 points they allowed on Wednesday were the most they've given up in a playoff game since 2016.
"We have to stay together," said Sky forward Candace Parker, who finished with 17 points, 10 rebounds and five assists. "[Courtney Vandersloot] said this is a series. We have to stay together, and we know that. We know that we made it tough. But just as we have in the past, we have to keep it one game at a time. We can't look ahead. We've got to come out on Saturday and overall be better."
Game 2 is Saturday afternoon in Chicago.
The WNBA adopted a new playoff format before the season, shifting away from the single-elimination games in the first two rounds that had become a staple since 2016 but adopting a three-game series in the first round.
However, the higher seed gets the first two games at home, with the lower seed getting home-court advantage for a potential decisive Game 3, a format Sky coach James Wade took issue with earlier this week.
"The thing is that we have to play 40 minutes," Wade said after the game. "We can't play this team for 35 minutes, can't play them for 30 minutes. We have to play them for 40 minutes because the moment you relax, they're going to take advantage of it. And that's how everybody is going to play against the champions."
Now to advance beyond the first round and try to become the first team to win back-to-back WNBA championships in 20 years, the Sky will need to win Game 3 in Brooklyn. And New York finds itself one win away from a major upset that would upend the playoffs.
"You go into a series, especially in this format, you just need to steal one," Liberty coach Sandy Brondello said. "I'm very proud of this team and the way they fought and stayed together. It wasn't always perfect, but this is playoff basketball. We found a way to win. Now you've just got to get up for the next game. It's best of two, but we know if we can win, we can advance."