Curry: Called Silver in wake of Sarver punishment
Warriors star Stephen Curry said he spoke privately with commissioner Adam Silver about Robert Sarver in the wake of the NBA…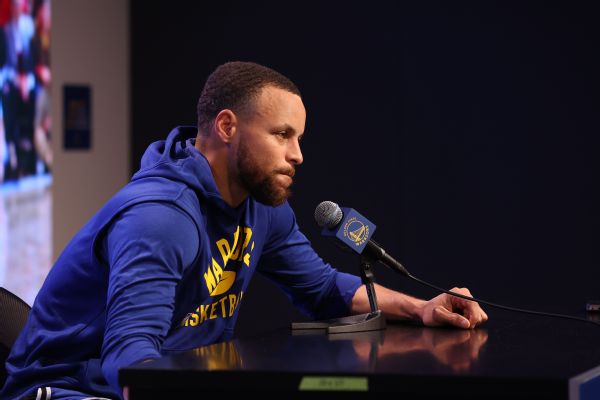 SAN FRANCISCO — Golden State Warriors star Stephen Curry, speaking publicly on the Robert Sarver matter for the first time Sunday, said he had private conversations with commissioner Adam Silver regarding the punishment handed down by the league to the embattled Phoenix Suns and Mercury owner.
"[I] got [Silver's] point of view of what decisions and, I guess, mechanisms he had to intervene and bring down a punishment that was worthy of the actions that we were all responding to and representing the league as a whole and protecting the integrity of the league and the standard that we set terms of from execs, ownership, all the way down to players," Curry said while addressing the situation during the Warriors' media day. "There should be a standard around what's tolerable and what's not."
The NBA announced Sept. 13 that Sarver would be suspended for one year and fined $10 million after an independent investigation found that he used the N-word at least five times "when recounting the statements of others" and was also involved in "instances of inequitable conduct toward female employees," including "sex-related comments" and inappropriate comments on employees' appearances. The NBA commissioned the investigation in the wake of an ESPN story in November 2021 detailing allegations of racism and misogyny during Sarver's 17 years as owner.
The NBA's announcement was met with backlash, as LeBron James, Chris Paul, Draymond Green and others spoke out and said the punishment wasn't severe enough. PayPal, the Suns' jersey patch sponsor, threatened to not renew their partnership with the team if Sarver remained owner. And Suns minority owner Jahm Najafi, the team's second-largest stakeholder, called for Sarver to resign.
Just over a week after his suspension was handed down, Sarver announced he is beginning the process to sell both the Suns and Mercury.
"I think the outcome was exactly what should have happened," Curry said. "Honestly, I thought with the punishment that was handed down, it would have dragged out a little longer, but I'm glad we got to a point where hopefully the team is up for sale sooner than later and can kind of move on knowing that's where it should be."
In an interview with Rolling Stone magazine published earlier this month, Curry expressed regret for not taking a public stance and boycotting the 2014 playoff game against the Clippers that followed the publication of an audio recording in which then-Clippers owner Donald Sterling made racist remarks — ultimately leading to his lifetime ban from the league.
Curry commended James, Paul and Green, his teammate on the Warriors, for using their public platforms to speak out on Sarver, and expressed appreciation to Silver for answering his call.
"The top players who have vested interests in protecting the league as well, all that stuff matters, and you want to have swift responses and reactions to stuff like that," Curry said.
After Sarver's suspension was handed down, but before he announced his intention to sell, Green recorded a 25-minute podcast episode in which he called on NBA owners to hold a vote to terminate Sarver's position as owner of the Suns.
"You know, if this is governed by a vote, then why isn't there a vote," Green said Sunday at Warriors media day, explaining the thought process he had during his podcast. "It's a 100 percent fireable offense. It's 100 percent forceable — to force a sale type of event. So why isn't there a vote if that's what has to happen?"
"I was very happy to see that he was selling the team because I think that's right," Green continued. "When you look at some of the things that people has gotten in trouble over, I think that falls under the same boat. And we're all a part of this league, and no one person is bigger than the league. If that goes for us as players, that goes across the board. We're still all a part of the league, no matter what level you're at."