Agent: Wembanyama will not shut season down
7-foot-4 French prospect Victor Wembanyama's agent insists that there's no plan to listen to some NBA team executives suggesting to shut…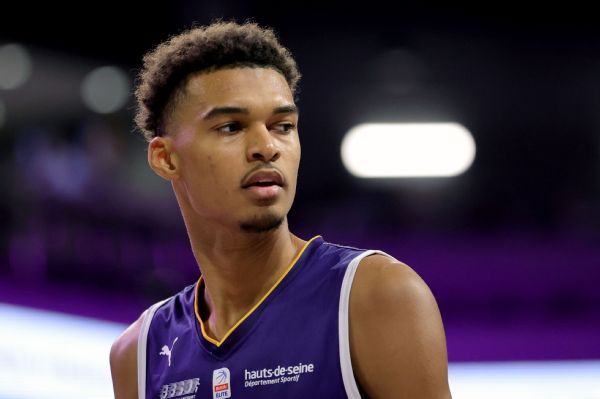 As NBA executives consider the transformative impact 7-foot-4 French prospect Victor Wembanyama's performance on Tuesday night could impose on the NBA's tanking and trade market this season, his agent insists that there's no plan to listen to some team executives suggesting to shut down the projected No. 1 pick until the June 2023 NBA draft.
"NBA people are telling me to shut him down, and we are not going to shut him down," Bouna Ndiaye told ESPN on Wednesday. "If we came with that kind of talk to (Wembanyama), he will look at us and say, 'What are you talking about?' He'll never agree to that. He wants to compete and get better. With Victor, it's basketball first and everything else second. He was so pissed off that he lost."
Wembanyama's brilliance was met with a spectacular performance out of G League Ignite guard Scoot Henderson, whom is expected to be the No. 2 overall pick in the June draft. In the history of these potential 1-2 draft pick matchups, it's been rare to have both players shown such a high-level of skill, maturity and potential in a head-to-head performance.
As impressive as Henderson's potential appears as a franchise lead guard, it is Wembanyama's unprecedented combination of size, skill and substance at 18 years old that mesmerized the approximately 200 NBA executives and scouts in attendance in suburban Las Vegas and reaffirmed beliefs that this promises to be a transformational player and historic NBA Draft. "Victor distorts basketball reality," one GM told ESPN on Wednesday. "The tank/trade market will really shift after that showing. It feels like last night will start a race to the bottom like we've never seen."
His performance in French's club Metropolitans 92's loss to the G League Ignite — 37 points, seven three-pointers and five blocks — punctuated what teams scouting Wembanyama for years had already believed: He's an historic talent. As GM on a team with a chance to contend for the 2023 No. 1 overall pick told ESPN on Wednesday morning: "He's a 7-foot-4 Durant who blocks shots — and he's not even close to what he's going to be. He will be the most hyped player since LeBron."
The impact of Wembanyama's performance on national television in the United States is expected to become a factor in how aggressively teams may proceed in joining that race to the bottom of the standing. After Tuesday night, front offices have a better chance to sell a tanking strategy to both owners and fans. In fact, multiple top team basketball executives told ESPN of conversations on Wednesday with their own ownership groups that expressed a better understanding of the transformational value of drafting Wembanyama – and the steps, some painful, it would take to give their teams the best odds at drafting him. Plus, the possibility of Henderson – the explosive G League Ignite guard who had 28 points and nine assists on Tuesday – looming as the second overall pick makes an even stronger case for teams to bottom out in the standings.
In recent years, the play-in tournament — which has created postseason berths for the ninth and 10th seeds in each conference – transformed many franchises into buyers instead of sellers at the trade deadline. This year, teams starting slowly could decide to go in the other direction, unloading rotational players and sitting out others for long stretches.
There won't only be a race to the bottom, but an opportunity for playoff and championship contenders to have more impactful players available to acquire in deals. Executives believe that could include more players available far sooner than the February trade deadline. The NBA flattened draft lottery odds to curb tanking in 2019, giving the teams with the three worst records a 14 percent chance each at winning the No. 1 pick in the draft lottery. The possibility of landing either Wembanyama or Henderson rises to 27 percent for the teams with the three worst records.
What's more, Wembanyama's competitive desire and well-rounded background only make him a more intriguing prospect to teams. For those who've done their research on him, it is little surprise that he would so summarily reject the idea of modifying his regimen – never mind shutting down the season — to protect his body and draft status.
Some had questioned the risk-reward to accept the invitation to play in these showcase games in Vegas, make the long trek to the United States and play a road game with NBA rules and referees. What if jetlag contributed to him playing poorly? What if he suffered an injury? For all the things that could go wrong, the journey turned out to be a boon for Wembanyama's U.S. debut and global notoriety. The loss so bothered him on Tuesday night, his agent said, that Wembanyama privately suggested that he might try to come out and get 50 points on Thursday (3 PM, ESPN2) to make sure he delivers a victory.
"We came to expose Victor to everyone, and teach him what the next 15 years of his life will look like in terms of managing expectations and the attention that's coming his way," Ndiaye told ESPN. "We came for learning. We want him to be the best he can be. The next game he may struggle. He needs to learn how to be consistent. Repeat, be better, learn." The impact of it all threatens to alter the landscape of the NBA season.