Source: Yanks re-signing Rizzo to $40M deal
Anthony Rizzo will make $17 million in each of the next two seasons and has a $6 million buyout option on…
Notice
: Trying to get property 'display_name' of non-object in
/home/techyesp/public_html/wp-content/plugins/google-analytics-dashboard-for-wp/includes/popular-posts/class-popular-posts.php
on line
353
Notice
: Trying to get property 'display_name' of non-object in
/home/techyesp/public_html/wp-content/plugins/google-analytics-dashboard-for-wp/includes/popular-posts/class-popular-posts.php
on line
353
Notice
: Trying to get property 'display_name' of non-object in
/home/techyesp/public_html/wp-content/plugins/google-analytics-dashboard-for-wp/includes/popular-posts/class-popular-posts.php
on line
353
Notice
: Trying to get property 'display_name' of non-object in
/home/techyesp/public_html/wp-content/plugins/google-analytics-dashboard-for-wp/includes/popular-posts/class-popular-posts.php
on line
353
Notice
: Trying to get property 'display_name' of non-object in
/home/techyesp/public_html/wp-content/plugins/google-analytics-dashboard-for-wp/includes/popular-posts/class-popular-posts.php
on line
353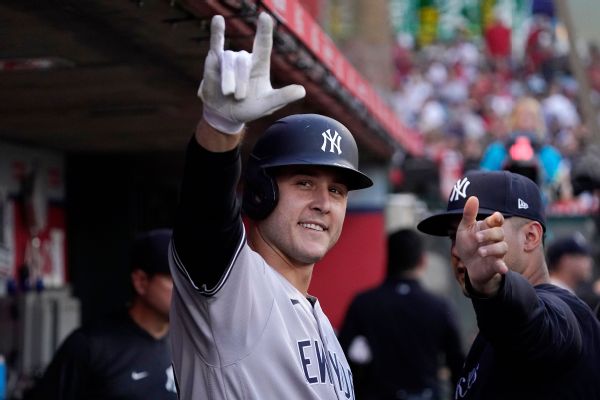 Anthony Rizzo is re-signing with the New York Yankees on a deal worth $40 million guaranteed, sources told ESPN on Tuesday.
Rizzo will make $17 million in each of the next two seasons and has a $6 million buyout option on a third year in 2025.
Acquired from the Chicago Cubs at the 2021 trade deadline, Rizzo returned to New York for the 2021 season on a deal that paid $16 million this year. He became a free agent after declining his $16 million option for 2023.
Rizzo hit 32 home runs for the fourth time in his career — he has never hit more — and had 75 RBIs in 130 games despite a .224 batting average. The 33-year-old was sidelined between Aug. 31 and Sept. 18 by back pain and headaches from an epidural injection to treat his back.
Rizzo's home runs were 40% of the Yankees' 77 by left-handed batters, and his RBIs were 37% of the 202 by New York's lefties.
The Associated Press contributed to this story.