Bills' Hamlin back in Buffalo to continue recovery
Doctors who treated Damar Hamlin said the Bills safety was back in Buffalo on Monday, an uplifting sign of the remarkable…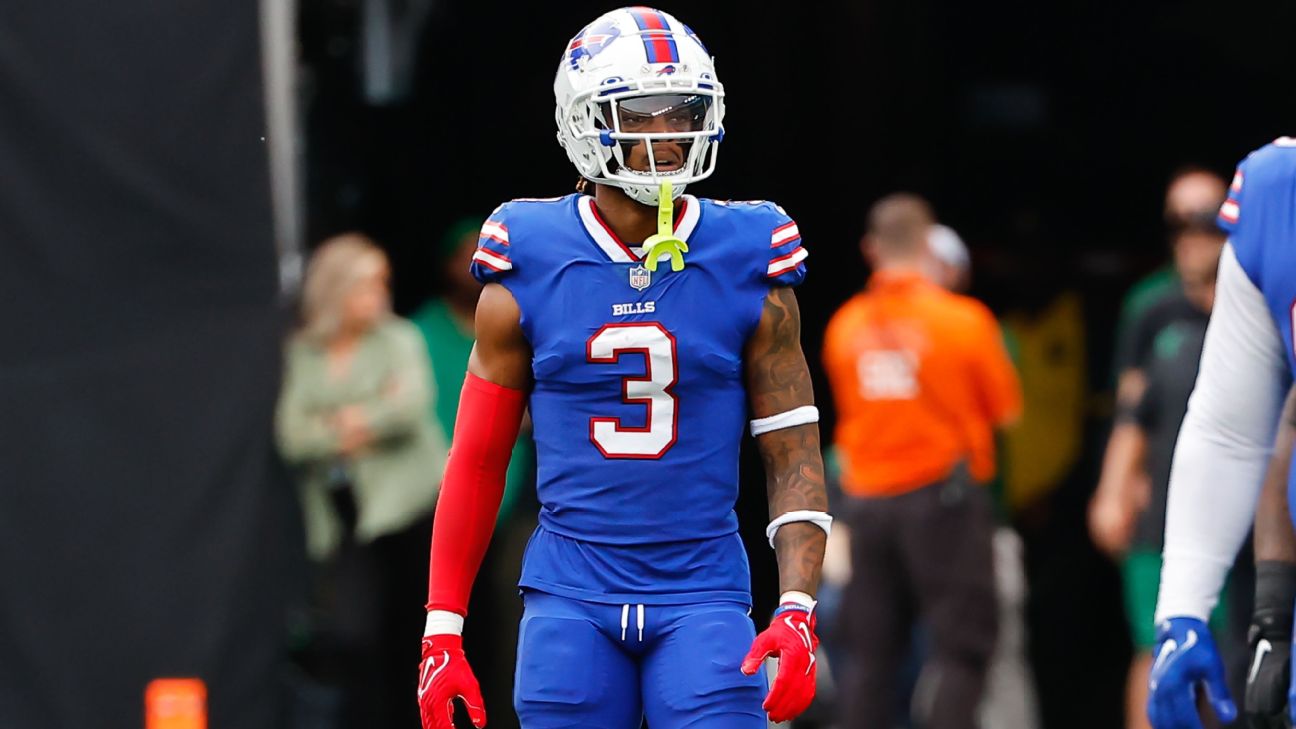 BUFFALO, N.Y. — Buffalo Bills safety Damar Hamlin was released from the University of Cincinnati Medical Center on Monday after spending almost a week in the hospital following his cardiac arrest on the field at Paycor Stadium.
The news was shared by Dr. William Knight IV and Dr. Timothy Pritts of UC Health, who were part of the team treating Hamlin and were authorized by his family to provide updates.
Hamlin flew from Cincinnati to Buffalo on Monday and has been transferred to Buffalo General Medical Center/Gates Vascular Institute and will continue to receive treatment as he recovers there.
"He is currently listed in stable condition and continues to make significant progress in his recovery," the hospital said in a statement. "The goal of the transfer to Buffalo General Medical Center/Gates Vascular Institute is to get him closer to home for further evaluation, recovery and eventually discharge and rehabilitation."
He has met a number of milestones on his journey to recovery, per doctors at UC Health, and has been up with physical and occupational therapy, walking the unit and tolerating a normal diet.
"Grateful for the awesome care I received at UCMC," Hamlin also tweeted. "Happy to be back in Buffalo. The docs and nurses at Buffalo General have already made me feel at home!"
The team of doctors at UC Health continues to be "ecstatic" about his recovery. Hamlin began walking with assistance Friday after he had his breathing tube removed overnight. He remained in the hospital's surgical intensive care unit until he was transferred as doctors wanted him to reach the criteria that allowed them to upgrade his condition from critical to either fair or good.
On Monday morning, he was able to meet those criteria and the doctors felt it was "safe and proper," per Pritts, to get him back to Buffalo.
"In general, we want to ensure that each organ system is stable to improving and that he needs a minimum amount of assistance, such that he does not need intensive nursing," Pritts said on the bar Hamlin needed to clear.
"And we have some awesome rock-star nurses who've been with him from the beginning, but he no longer needs that level of nursing care. No longer needs intensive respiratory therapy from our respiratory care practitioners and is able to, then, move to a setting where he would have less intensive care."
Hamlin is expected to continue to undergo a series of tests and evaluations to determine what caused the incident, in addition to treating any pathology that might be found. Pritts said normal recovery from something like what Hamlin is going through can be measured in weeks and months and that, "He's been a little bit ahead of that at each at each stage."
"He still has a little bit of a ways to go in terms of his ongoing recovery," Knight said. "We're thrilled to where he is today. He's up, he's walking around, he's got an amazing, genuine sense of humor."
Bills coach Sean McDermott and general manger Brandon Beane were able to visit Hamlin in Buffalo after his arrival, along with head athletic trainer Nate Breske and assistant athletic trainer Tabani Richards, who has remained with Hamlin throughout the last week.
"He's doing well and a little bit tired, but it was good to see him in person for the first time in a while," McDermott said. "… He's just tired, but he seems happy and happy to be back in Buffalo and around some familiar area to him and so, I know he's taking it just one step at a time."
Hamlin was taken to the hospital in Cincinnati last Monday night after collapsing on the field and suffering cardiac arrest during a game between the Bills and the Bengals. The game was postponed and later canceled.
Bills players returned to the field Sunday for the first time since the event with the team's win over the New England Patriots, but the focus of the game was all on Hamlin, with players wearing jerseys with "3" patches on them and the Bills' medical and athletic training staff recognized before the game. Fans throughout the stadium supported Hamlin with signs, while players held up three fingers throughout the game.
Pritts shared that Hamlin had an enthusiastic physical reaction to the game starting off with a 96-yard kickoff return by running back Nyheim Hines.
"He watched the game yesterday. When the opening kickoff was run back, he jumped up and down, got out of his chair, set, I think, every alarm off in the ICU in the process, but he was fine, it was just an appropriate reaction to a very exciting play," Pritts said. "So, he very much enjoyed it and enjoys the support from everyone."