Titans fire four assistants, including OC Downing
The Titans have fired offensive coordinator Todd Downing after two seasons….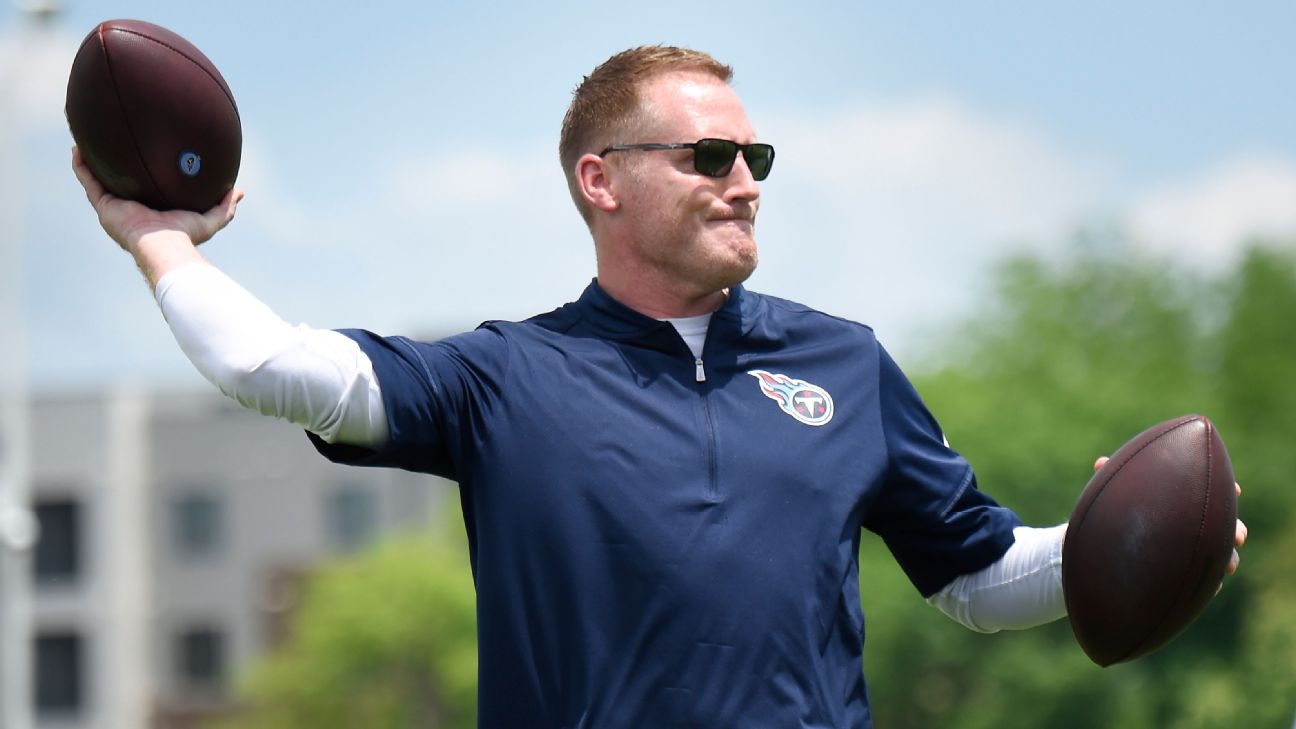 NASHVILLE, Tenn. — The Titans fired four assistant coaches on Monday, including offensive coordinator Todd Downing, who had been in that role the past two seasons.
The Titans also fired offensive line coach Keith Carter, secondary coach Anthony Midget and offensive skills assistant Erik Frazier.
"I want to thank Todd, Keith, Anthony and Erik for their service and commitment to our team over their time here in Tennessee," Titans head coach Mike Vrabel said in a statement. "Each of them made an impact on our organization, were dedicated to the process and loyal members of our coaching staff."
The Titans finished a disappointing 7-10, capped by Saturday's 20-16 loss to the Jacksonville Jaguars that eliminated them from the playoff contention. The Titans lost their final seven games of the season.
We didn't do a good enough job — we lost too many games," Vrabel said Monday. "That self-reflection, nobody would evaluate that they did a good enough job because we didn't win. … The short answer is: It wasn't good enough."
While Downing is out, quarterback Ryan Tannehill indicated Monday that he wants to return to the Titans next season.
"I definitely have some good years left. I feel really good," said the 34-year-old, who was injured in Week 15 and missed the rest of the season. "Even coming off this injury I feel really good and I'm looking forward to some bright years ahead."
The Titans can save around $18 million in cap space if they release Tannehill, who finished this season with 2,536 passing yards, 15 total touchdowns (including two rushing) and six interceptions in 12 games.
Vrabel said Monday he wants Tannehill to "get as healthy as he possibly can and go and be our quarterback and figure out things that are going to help us win."
The Titans are also searching for a new general manager after firing Jon Robinson last month. Titans controlling owner Amy Adams Strunk said that whomever they hire to be the next general manager will have to work "hand in hand" with Vrabel as they seek to put together their roster.
Under Downing, the Titans' offense gained 296.8 yards per game this season (30th in the NFL). It also struggled to score as shown by its 17.5 points-per-game average (28th in the league). Most of the shortcomings came in the second half of games, where Tennessee's 5.5-point average was the worst in the NFL.
In November, hours after a Thursday night game against the Green Bay Packers, Downing was charged with driving under the influence and speeding after being arrested by the Tennessee Highway Patrol. Vrabel stood by Downing after his arrest, saying that the team would wait for everything to play out with the NFL and the legal system before any action was taken.
Downing took over as the offensive coordinator when former Titans playcaller Arthur Smith left to coach the Atlanta Falcons before the 2021 season. In Downing's first season as offensive coordinator, the Titans' scoring offense fell to No. 15 in the NFL after finishing fourth in 2020.
But the Titans ranked fifth in rushing (141.4 yards per game) despite losing Pro Bowl running back Derrick Henry for nine games due to a Jones fracture in his right foot, and earned the top seed in the AFC that season. The 2021 offense also ranked fifth (63.9%) in the red zone scoring efficiency.
Before being named Titans offensive coordinator, Downing spent two seasons in Tennessee as the tight ends coach. Downing joined the Titans after spending 2018 with the Minnesota Vikings as tight ends coach. He also served as the Raiders' offensive coordinator in 2017 after spending two years as quarterbacks coach.