Carr thanks Raiders fans, says goodbye to Vegas
Derek Carr wrote his farewell message to the Raiders on social media Thursday, saying it "breaks my heart I didn't get…
Notice
: Trying to get property 'display_name' of non-object in
/home/techyesp/public_html/wp-content/plugins/google-analytics-dashboard-for-wp/includes/popular-posts/class-popular-posts.php
on line
353
Notice
: Trying to get property 'display_name' of non-object in
/home/techyesp/public_html/wp-content/plugins/google-analytics-dashboard-for-wp/includes/popular-posts/class-popular-posts.php
on line
353
Notice
: Trying to get property 'display_name' of non-object in
/home/techyesp/public_html/wp-content/plugins/google-analytics-dashboard-for-wp/includes/popular-posts/class-popular-posts.php
on line
353
Notice
: Trying to get property 'display_name' of non-object in
/home/techyesp/public_html/wp-content/plugins/google-analytics-dashboard-for-wp/includes/popular-posts/class-popular-posts.php
on line
353
Notice
: Trying to get property 'display_name' of non-object in
/home/techyesp/public_html/wp-content/plugins/google-analytics-dashboard-for-wp/includes/popular-posts/class-popular-posts.php
on line
353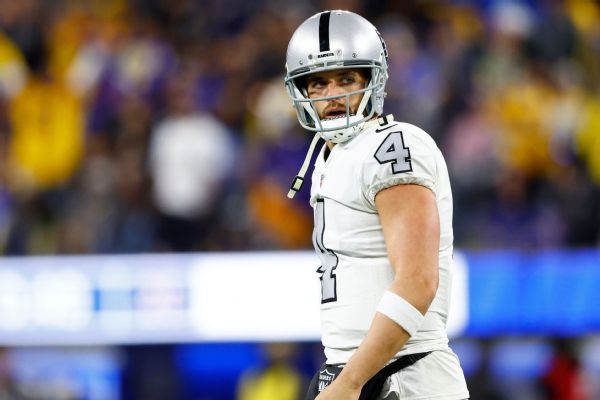 Quarterback Derek Carr has said goodbye to the Las Vegas Raiders, bringing the apparent end to his nine-year tenure with the team.
Carr wrote his farewell message on social media Thursday, saying it "breaks my heart I didn't get an opportunity to say goodbye in person."
"We certainly have been on a roller coaster in our 9 years together," Carr wrote. "From the bottom of my heart, I am so grateful and appreciative of the years of support you gave to my family and me. We had our share of both heart breaking moments and thrilling game winning drives, and it always felt like you were there next to me.
"It's especially hard to say goodbye because I can honestly say that I gave you everything I had, every single day, in season, and in the off season. It certainly wasn't perfect, but I hope that I was able to leave you with more than a few great memories as Raider fans."
Adding that the "fire burning inside of me to win a championship still rages," Carr wrote that he looks forward to playing for a new team.
Carr had signed a three-year, $121.5 million extension with Las Vegas in the spring, but the deal allows the Raiders to cut him within three days of the Super Bowl for only a $5.625 million salary-cap hit.
The 31-year-old Carr was benched for the Raiders' final two games this season, both losses as they finished 6-11, and he had stepped away from the team to not be a distraction.
Carr joined the Raiders as a second-round pick in 2014, throwing for 35,222 yards, 217 touchdowns and 99 interceptions in 142 games. He played in his only postseason game for Las Vegas in 2021, losing in the wild-card round to the Cincinnati Bengals.
Information from ESPN's Paul Gutierrez was used in this report.