John Motson obituary: BBC commentator was 'voice of football' for 50 years
John Motson, who has died at the age of 77, was famed for his iconic football commentaries. …
Notice
: Trying to get property 'display_name' of non-object in
/home/techyesp/public_html/wp-content/plugins/google-analytics-dashboard-for-wp/includes/popular-posts/class-popular-posts.php
on line
353
Notice
: Trying to get property 'display_name' of non-object in
/home/techyesp/public_html/wp-content/plugins/google-analytics-dashboard-for-wp/includes/popular-posts/class-popular-posts.php
on line
353
Notice
: Trying to get property 'display_name' of non-object in
/home/techyesp/public_html/wp-content/plugins/google-analytics-dashboard-for-wp/includes/popular-posts/class-popular-posts.php
on line
353
Notice
: Trying to get property 'display_name' of non-object in
/home/techyesp/public_html/wp-content/plugins/google-analytics-dashboard-for-wp/includes/popular-posts/class-popular-posts.php
on line
353
Notice
: Trying to get property 'display_name' of non-object in
/home/techyesp/public_html/wp-content/plugins/google-analytics-dashboard-for-wp/includes/popular-posts/class-popular-posts.php
on line
353
Notice
: Trying to get property 'display_name' of non-object in
/home/techyesp/public_html/wp-content/plugins/google-analytics-dashboard-for-wp/includes/popular-posts/class-popular-posts.php
on line
353
Notice
: Trying to get property 'display_name' of non-object in
/home/techyesp/public_html/wp-content/plugins/google-analytics-dashboard-for-wp/includes/popular-posts/class-popular-posts.php
on line
353
"And there it is, the Crazy Gang have beaten the Culture Club."
Just one of the iconic lines, from a distinguished career covering 2,500 games, which marked John Motson out as a legendary football commentator.
That summary came at the end of Wimbledon's shock FA Cup final victory over Liverpool in 1988.
It was among a highlights reel which ran for 50 years with the BBC, covering 10 World Cups, 10 European Championships, 29 FA Cup finals and more than 200 England games.
Popularly known as "Motty", he was famous for his trademark sheepskin coats and encyclopaedic knowledge of the game.
For many, a part of their childhood will have gone with his death aged 77.
"A quite brilliant commentator and the voice of football in this country for generations," said former England striker and BBC colleague Gary Lineker.
His distinctive view was honed from hours of diligent research, utilising a scrapbook maintained by his wife Anne.
Every big moment provided a Motson masterpiece. In 1981 it was "Villa… AND STILL RICKY VILLA! What a fantastic run! He's scored! Amazing goal!" as he described Ricky Villa's winner for Tottenham in the FA Cup final replay against Manchester City.
Twenty-five years later, he was in position as Zinedine Zidane was sent off for France in the World Cup final.
"And the referee has gone across now with his hand in his pocket. He's been told about it. He's off, it's red, it's Zidane! You can't excuse that – Zidane's career ends in disgrace!" said Motson as he captured the drama.
He almost lost his love of football after commentating on the 1989 FA Cup semi-final between Liverpool and Nottingham Forest at Hillsborough, which resulted in the deaths of 97 Liverpool fans.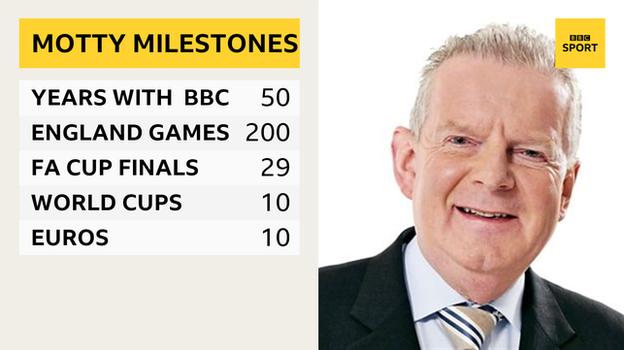 The son of a Methodist minster, Motson was born in Salford in 1945 and grew up in Lewisham, south-east London.
He was sent to boarding school at Culford near Bury St Edmunds in Suffolk, and developed his love of football when taken to matches by his father during holidays.
Motson started out as a reporter on the Barnet Press and Sheffield Morning Telegraph newspapers before joining the BBC as a sports reporter on Radio 2.
If commentary is all about timing, then he could not have been better placed for his breakthrough on Match of the Day during the famous FA Cup replay between Hereford and Newcastle in 1972.
"Radford again… oh what a goal! Radford the scorer. Ronnie Radford – and the crowd are invading the pitch.. and now it will take some time to clear the field. What a tremendous shot by Radford," the broadcaster bellowed out.
Hereford's shock 2-1 win – thanks to Ronnie Radford's long-range strike and Ricky George's winner – saw the match promoted from a five-minute segment to the main game, with Motson on the microphone.
"I was still on trial that year on television so it was a big day for me. I went down there thinking that Newcastle were going to have a comfortable win," he would recall years later.
"The guy who drove me down to Hereford for the game was called Billy Meadows, he was their centre-forward. He took me down with Ricky George, who was to come and score the winning goal in extra time after Radford hit a 40-yarder.
"Billy then drove us home, because they both lived near me in Barnet, and we sat in Billy's front room and had fish and chips and listened to American Pie [by Don McLean] before Match of the Day came on and there, wonder of wonders, was my match propelled to the top of the show.
"I didn't look back after that because the BBC realised then I was capable of commentating on important matches."
Despite a rivalry with the equally revered Barry Davies, for most of the period from 1979 to 2008 Motson was the BBC's voice on major finals such as the FA Cup, European Championship and World Cup.
That run included his record-breaking sixth World Cup final in Berlin in 2006 and his 29th FA Cup final in 2008.
Motson was an energetic stats machine compared with the poetic, languid style of Davies.
They hailed from a golden generation of BBC commentators which included the likes of David Coleman, Peter O'Sullevan, Bill McLaren, Murray Walker and Harry Carpenter.
Those voices were synonymous with sport in an era before multi-channel viewing options.
"These days anybody can download a mile and a half of stats off the internet," said fellow commentator Gerald Sinstadt on Motson's retirement from the BBC in 2018.
"John's gift was that he did his own research. He knew the key stats and the ones that would make a point when the moment arrived."
Motson was there for 'Gazza's tears' when England were beaten in the 1990 World Cup semi-finals and again when Paul Gascoigne scored against Scotland at Euro '96.
Of all the England matches he commentated on, it was the 5-1 victory over Germany in a World Cup qualifier in Munich in September 2001 which he singled out as his favourite.
"Oh, this is getting better and better and better. One, two, three for Michael Owen!" he said as Owen sealed a hat-trick.
In the same year, researchers using voice profile analysis found he had the "perfect pitch, volume and rhythm".
And he was introduced to the internet generation when the BBC Sport website brought in a 'Mini Motty' desktop toy which would pop up with football updates.
Motty took in commentaries on BBC Radio 5 Live before deciding to retire from the BBC and was behind a Match of the Day microphone for the final time during Crystal Palace's 2-0 win over relegated West Brom in 2018.
Already an OBE, he was honoured at the British Academy Television Awards, for his "outstanding contribution to sports broadcasting".
Motson, who went on to work for Talksport, leaves his wife and son Frederick.
He was once asked what made a great commentator.
"You've got to have a decent voice, you've got to have a sense of timing, know when to talk and not to talk. You are the eyes and ears of the viewer," he said.