No. 10 Irish lose top scorer Miles to knee injury
Notre Dame star guard Olivia Miles left the game at Louisville on Sunday with a right knee injury suffered while diving…
Notice
: Trying to get property 'display_name' of non-object in
/home/techyesp/public_html/wp-content/plugins/google-analytics-dashboard-for-wp/includes/popular-posts/class-popular-posts.php
on line
353
Notice
: Trying to get property 'display_name' of non-object in
/home/techyesp/public_html/wp-content/plugins/google-analytics-dashboard-for-wp/includes/popular-posts/class-popular-posts.php
on line
353
Notice
: Trying to get property 'display_name' of non-object in
/home/techyesp/public_html/wp-content/plugins/google-analytics-dashboard-for-wp/includes/popular-posts/class-popular-posts.php
on line
353
Notice
: Trying to get property 'display_name' of non-object in
/home/techyesp/public_html/wp-content/plugins/google-analytics-dashboard-for-wp/includes/popular-posts/class-popular-posts.php
on line
353
Notice
: Trying to get property 'display_name' of non-object in
/home/techyesp/public_html/wp-content/plugins/google-analytics-dashboard-for-wp/includes/popular-posts/class-popular-posts.php
on line
353
Notice
: Trying to get property 'display_name' of non-object in
/home/techyesp/public_html/wp-content/plugins/google-analytics-dashboard-for-wp/includes/popular-posts/class-popular-posts.php
on line
353
Notice
: Trying to get property 'display_name' of non-object in
/home/techyesp/public_html/wp-content/plugins/google-analytics-dashboard-for-wp/includes/popular-posts/class-popular-posts.php
on line
353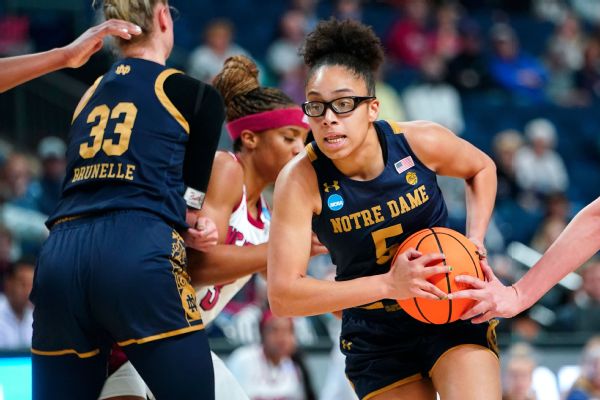 Notre Dame star guard Olivia Miles left the game at Louisville on Sunday with a right knee injury suffered while diving for a loose ball under the Irish basket late in the second quarter.
Miles, who leads the No. 10 Irish with 14.7 points, 7.4 rebounds, 7.0 assists and 2.1 steals per game, was hurt with 2:35 remaining before halftime. The sophomore became emotional and pounded the floor while being examined by medical personnel.
She was able to flex her knee and eventually limped off the floor without assistance. She favored the right leg as she talked with family members and walked gingerly back into the locker room.
Miles eventually returned to the bench midway through the third quarter with her right knee wrapped in ice.
Notre Dame defeated Louisville 68-65. The win, combined with Duke's 45-41 loss to North Carolina on Sunday, gave the Irish their first ACC regular-season title since 2019.
Miles' versatility on both ends of the floor has made her a rising star in women's college basketball. She leads the ACC and ranks fifth nationally in assists and has recorded 10 double-doubles.
The 5-foot-10 guard last spring became the first freshman in men's or women's basketball to post a triple-double in the NCAA tournament, and she is on the watch list for several national awards.
The Associated Press contributed to this report.