LeBron's first 20-20 game helps put Lakers up 3-1
"I've done some pretty cool things in my career," LeBron James said after the Lakers' thrilling OT win over the Grizzlies…
Notice
: Trying to get property 'display_name' of non-object in
/home/techyesp/public_html/wp-content/plugins/google-analytics-dashboard-for-wp/includes/popular-posts/class-popular-posts.php
on line
356
Notice
: Trying to get property 'display_name' of non-object in
/home/techyesp/public_html/wp-content/plugins/google-analytics-dashboard-for-wp/includes/popular-posts/class-popular-posts.php
on line
356
Notice
: Trying to get property 'display_name' of non-object in
/home/techyesp/public_html/wp-content/plugins/google-analytics-dashboard-for-wp/includes/popular-posts/class-popular-posts.php
on line
356
Notice
: Trying to get property 'display_name' of non-object in
/home/techyesp/public_html/wp-content/plugins/google-analytics-dashboard-for-wp/includes/popular-posts/class-popular-posts.php
on line
356
Notice
: Trying to get property 'display_name' of non-object in
/home/techyesp/public_html/wp-content/plugins/google-analytics-dashboard-for-wp/includes/popular-posts/class-popular-posts.php
on line
356
Notice
: Trying to get property 'display_name' of non-object in
/home/techyesp/public_html/wp-content/plugins/google-analytics-dashboard-for-wp/includes/popular-posts/class-popular-posts.php
on line
356
Notice
: Trying to get property 'display_name' of non-object in
/home/techyesp/public_html/wp-content/plugins/google-analytics-dashboard-for-wp/includes/popular-posts/class-popular-posts.php
on line
356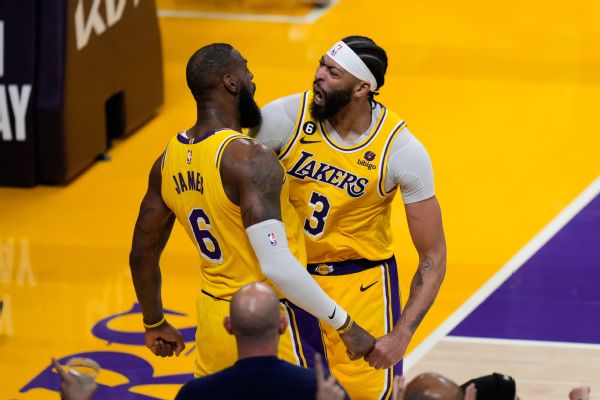 LOS ANGELES — With less than 30 seconds to go in overtime in Monday's Game 4 against the Memphis Grizzlies, the Los Angeles Lakers' 38-year-old star, LeBron James — playing in his 45th minute — made a layup while being fouled by his first-round foil, Dillon Brooks.
James flexed both biceps. He roared with his mouth agape. L.A. went up by five and went on to win 117-111 to take a 3-1 series lead — one victory away from becoming the first No. 7 seed to beat a No. 2 seed since San Antonio in 2010.
"I felt like that play right there," James said, "I wouldn't say, 'closed the door,' but it sealed it. There wasn't much light at the end for the rest of the game. I was just letting the emotion come out."
It was the image that will be seared into fans' minds from an instant classic performance by the 20-year veteran, who finished with 22 points, 20 rebounds, seven assists, two blocks and just one turnover.
His 20-20 line — a career first through 1,693 regular-season, play-in and postseason games — made him the oldest player to achieve the statistical mark since Wilt Chamberlain did it at 36 in 1973.
"I've done some pretty cool things in my career," James said. "I've never had 20 and 20 before. So, that's pretty cool, I guess."
After the Lakers flamed out in their repeat title bid with a first-round loss in 2021 and didn't even qualify for the postseason last year, James has his team looking like a group primed to make a run when it matters once again.
"These are the moments that I love," James said. "I love the postseason. I've been a part of a lot of the games and I just love being able to make plays and be out there with my teammates to give them experiences that they maybe never had before."
He delivered the experience in a variety of ways: from a couple of blocked shots in the first half — wagging his finger like Dikembe Mutombo after the second — to a couple of charges drawn on Memphis star Ja Morant in the fourth.
"He understands for us to get all of our other guys to do and make the right plays and sacrifice themselves, he has to be at the top of that list," Lakers coach Darvin Ham said. "Those charges represent him doing whatever it takes to put us in a position to succeed."
And the game wouldn't have made it to overtime if not for his game-tying layup with 0.8 seconds remaining in the fourth quarter, finishing his drive by lofting the ball high off the glass to elude the Grizzlies man in the middle, Defensive Player of the Year Jaren Jackson Jr.
"I work on different layup packages," James explained. "Tier 1 is a layup really right under the rim where you lay it off the glass. Tier 2 is where you lay it off the middle of the glass, the middle of the square. And Tier 3 is over the square."
James' one in Game 4 was so high it might have been Tier 4.
Anthony Davis, who sources told ESPN was struggling with a sore right hip that he hurt against the Phoenix Suns 2½ weeks ago, blocked Morant's potential game-winning shot at the end of regulation to ensure the extra session.
"Things aren't always going to be perfect," Davis said after going 3-for-5 from the field in the fourth quarter and OT after starting the game 1-for-8. "Sometimes you got to win ugly. Sometimes you don't play well, but still try to leave your imprint on the game. And that's what I tried to do tonight on the defensive end."
James' all-around effort exemplified the Lakers' team game. Davis finished with 12 points, 11 rebounds and four blocks. Austin Reaves led the team in scoring with 23 points. Jarred Vanderbilt scored 15 after having only 12 in the first three games combined.
D'Angelo Russell scored 17 points before fouling out, including nine straight on three 3s in the fourth quarter that dug L.A. out of a seven-point deficit and gave it the lead.
"I have to give a huge shoutout to D'Angelo Russell," Ham said. "I mean, we were flailing at best offensively and he was able to catch fire and, man, he put us on [his] back offensively and put us in a position to have a chance to close the gap, eclipse it and walk away with the win. If D'Lo doesn't play the way he played, we don't win this game."
And if James doesn't play the way he's played this late into his career, the Lakers likely don't make it to the postseason in the first place, one win away from upsetting the Grizzlies.
"The closeout game is always the hardest game of the series," James said, looking ahead to Game 5 on Wednesday. "It's the most tiring one. It's the most brutal one. And we better be ready for it. And I think we'll be ready for it."