Bane doubles down, vows Grizz will see Game 7
Desmond Bane helped Grizzlies deliver on his promise they would stave off elimination in Game 5 against the Lakers, then predicted…
Notice
: Trying to get property 'display_name' of non-object in
/home/techyesp/public_html/wp-content/plugins/google-analytics-dashboard-for-wp/includes/popular-posts/class-popular-posts.php
on line
356
Notice
: Trying to get property 'display_name' of non-object in
/home/techyesp/public_html/wp-content/plugins/google-analytics-dashboard-for-wp/includes/popular-posts/class-popular-posts.php
on line
356
Notice
: Trying to get property 'display_name' of non-object in
/home/techyesp/public_html/wp-content/plugins/google-analytics-dashboard-for-wp/includes/popular-posts/class-popular-posts.php
on line
356
Notice
: Trying to get property 'display_name' of non-object in
/home/techyesp/public_html/wp-content/plugins/google-analytics-dashboard-for-wp/includes/popular-posts/class-popular-posts.php
on line
356
Notice
: Trying to get property 'display_name' of non-object in
/home/techyesp/public_html/wp-content/plugins/google-analytics-dashboard-for-wp/includes/popular-posts/class-popular-posts.php
on line
356
Notice
: Trying to get property 'display_name' of non-object in
/home/techyesp/public_html/wp-content/plugins/google-analytics-dashboard-for-wp/includes/popular-posts/class-popular-posts.php
on line
356
Notice
: Trying to get property 'display_name' of non-object in
/home/techyesp/public_html/wp-content/plugins/google-analytics-dashboard-for-wp/includes/popular-posts/class-popular-posts.php
on line
356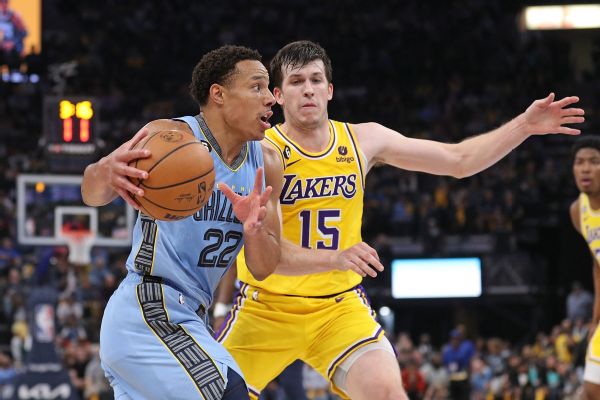 MEMPHIS — Desmond Bane backed up his previous declaration and issued another one.
Two nights after promising that the Memphis Grizzlies would stave off elimination, Bane delivered in a 116-99 Game 5 win over the Los Angeles Lakers on Wednesday, scoring a game-high 33 points, grabbing 10 rebounds and dishing out five assists. Then Bane guaranteed that the Grizzlies would return to FedExForum, where they had the best home record in the NBA this season.
"We got to come with the right edge and the right road mentality, but I said it out there and I'll say it again," Bane said. "We're going to be back for a Game 7 in front of the best fans in the NBA."
Ja Morant also had a spectacular performance in the victory with 31 points, 10 rebounds and seven assists.
"Those guys were spectacular tonight," Grizzlies coach Taylor Jenkins said. "We're going to need even more and better from them in Game 6."
The Grizzlies are 0-16 this season as road underdogs, including losses in Games 3 and 4. Morant made a snarky reference to recent criticism of him when asked what it would take for the Grizzlies to win in Los Angeles to avoid elimination again.
"Me being a leader and being ready for this pedestal everybody got me on," Morant said.
The status of one of the players who keyed the Grizzlies' series-extending victory is uncertain for Friday's Game 6 in Los Angeles. Reserve guard Luke Kennard exited the win early in the fourth quarter after suffering a stinger in his left (shooting) shoulder on a collision when he was screened.
"It's a little stiff and sore, but I'll do everything I can to try to get right and play Friday," said Kennard, who had the game's best plus-minus (plus-26 in 17 minutes) despite attempting only three shots.
Jenkins adjusted his rotation by replacing slumping small forward Dillon Brooks with Kennard with 8:15 remaining in the third quarter, which solved the Grizzlies' spacing problems. The Grizzlies responded by outscoring the Lakers by 13 the rest of the quarter to take a commanding lead.
Brooks, who was 3-of-15 from the floor, did not return to the game until after Kennard was injured.
"I was just being open-minded seeing what the game was showing us," Jenkins said. "It was a win-or-go-home situation. I just wanted to try different things. DB came back in the fourth quarter. Just having Luke out there with Des and those two guys on the floor together has been really good for us, and obviously if Luke doesn't get that stinger, who knows what would have happened in the fourth quarter?"
Brooks is shooting 30.3% from the floor and 21.6% for the series. Fans repeatedly groaned when he shot the ball during Game 5.
"It's been challenging," said Brooks, who shot 31.6% from the floor in the West semifinals last season, when the Golden State Warriors eliminated the Grizzlies. "I'm used to a certain standard from myself, but I just stay with it and one of these games I'm going to break out for three or four 3s and change the game."