Butler, Heat oust top-seeded Bucks in OT stunner
The Heat rode 42 points and a sensational tying shot from Jimmy Butler to an overtime win over the Bucks that…
Notice
: Trying to get property 'display_name' of non-object in
/home/techyesp/public_html/wp-content/plugins/google-analytics-dashboard-for-wp/includes/popular-posts/class-popular-posts.php
on line
356
Notice
: Trying to get property 'display_name' of non-object in
/home/techyesp/public_html/wp-content/plugins/google-analytics-dashboard-for-wp/includes/popular-posts/class-popular-posts.php
on line
356
Notice
: Trying to get property 'display_name' of non-object in
/home/techyesp/public_html/wp-content/plugins/google-analytics-dashboard-for-wp/includes/popular-posts/class-popular-posts.php
on line
356
Notice
: Trying to get property 'display_name' of non-object in
/home/techyesp/public_html/wp-content/plugins/google-analytics-dashboard-for-wp/includes/popular-posts/class-popular-posts.php
on line
356
Notice
: Trying to get property 'display_name' of non-object in
/home/techyesp/public_html/wp-content/plugins/google-analytics-dashboard-for-wp/includes/popular-posts/class-popular-posts.php
on line
356
Notice
: Trying to get property 'display_name' of non-object in
/home/techyesp/public_html/wp-content/plugins/google-analytics-dashboard-for-wp/includes/popular-posts/class-popular-posts.php
on line
356
Notice
: Trying to get property 'display_name' of non-object in
/home/techyesp/public_html/wp-content/plugins/google-analytics-dashboard-for-wp/includes/popular-posts/class-popular-posts.php
on line
356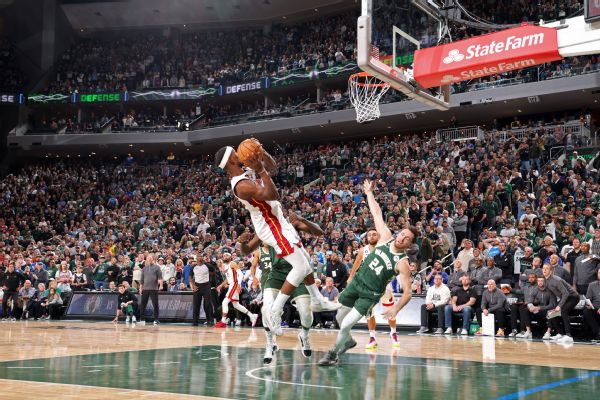 MILWAUKEE — As Heat coach Erik Spoelstra was drawing up a play to attempt to tie Game 5 of Miami's first-round series against the Bucks in the final seconds Wednesday night, he initially planned to give the ball to someone other than Jimmy Butler.
When Butler was informed of this plan, however, he had other ideas.
"He looked me dead in the eye," Spoelstra said later with a smile, "and he just said, 'No. Let me be that guy.'"
After watching Butler carry his teammates to the brink of one of the greatest upsets in NBA history, Spoelstra deferred to his superstar. And Butler delivered, converting a perfect pass from Gabe Vincent to throw in what became a tying bucket for two of his 42 points on the night with 0.5 seconds to go in regulation, a shot that spurred Miami on to an eventual 128-126 overtime victory over Milwaukee.
In doing so, the Heat claimed a series victory that sent the Bucks, the clear favorites to lift the Larry O'Brien Trophy for a second time in three years entering the postseason, crashing out of the playoffs in shocking fashion.
"We just play hard," said Butler, who again was the dominant player on the court, also contributing eight rebounds and four assists in 46 minutes. "We know what we're capable of. We don't listen to the outside noise, and we will not listen to any outside noise.
"We're going to do what we do."
In this series, the Heat did a few things. One of them was pulling off back-to-back remarkable comebacks.
Miami was in position to close out this series in Game 5 only because of a stunning comeback in the closing minutes of Game 4, one that saw the Heat overcome a 14-point fourth-quarter deficit behind a staggering 56 points from Butler.
So, when Miami was down 16 at the start of the fourth quarter in Game 5 — with Butler resting on the bench to start the period — it seemed unlikely the Heat would be able to pull off a repeat performance away from home.
Instead, that's exactly what happened, as the Bucks — who made only three field goals in the entire fourth quarter — allowed the Heat to slowly but surely drag themselves back into the game, to the point where Butler converted an and-1 layup and a 3-pointer on back-to-back possessions to tie the game with 2 minutes, 11 seconds to go in regulation.
Eventually, the Bucks would retake a four-point lead with 14 seconds left after a pair of Jrue Holiday free throws, but a Vincent 3-pointer cut Milwaukee's lead to one, and after an errant inbounds pass led to a successful Heat challenge and a jump ball the Bucks controlled, Holiday hit one of two free throws to make it a two-point game with 2.5 seconds left.
It was then that Vincent — who scored 22 points on the night — had the ball in his hands with Giannis Antetokounmpo in front of him and Butler, having convinced Spoelstra he'd be open, scrambling to get to the rim.
"You could just tell the entire series that Jrue wasn't taking a body off me," Butler said, in explaining his thinking in asking for the play to be drawn up for him. "He wasn't going to shoot the gap, he wasn't going to do any of that.
"So I said, 'I guarantee you that when I turn this corner, he's going to be lock-and-trail, he's going to be behind me. … [Spoelstra] trusted me in that moment, like he has done multiple times."
Then, after Vincent lobbed a pass over Antetokounmpo's outstretched arms, Butler did the rest, muscling the ball into the basket to tie the game with 0.5 seconds left.
"I just got to throw the ball up there," Vincent said. "For me, it was easy. I had complete faith in Jimmy."
That faith, as it was so often throughout this series, proved to be justified. Still, after Butler's bucket, the Bucks had a timeout — but didn't use it, inbounding the ball and sending the game to overtime.
"Yeah, we needed to call timeout [there]," Bucks coach Mike Budenholzer admitted afterward.
Things didn't get better from there, as the Bucks went another three minutes in overtime without a made field goal, allowing the Heat to at one point build a seven-point lead.
But after Kyle Lowry, Kevin Love and Bam Adebayo had all fouled out for the Heat, the Bucks began to chip away at Miami's interior defense and cut the deficit to two with just under 30 seconds to go on a dunk by Antetokounmpo — who finished with 38 points but went 10-for-23 from the free throw line, including 3-for-9 in the fourth quarter and overtime.
After Vincent missed a 3-pointer, Milwaukee had one final chance to push the ball and either tie or win the game. But after moving the ball around the perimeter, it wound up in Grayson Allen's hands — where it would remain until after the final buzzer sounded, with Milwaukee not getting off a final shot while having both of its timeouts still available.
"Giannis attacked and got the ball to Khris [Middleton]," Budenholzer said, explaining why he didn't call timeout in that situation, either. "That's how we always play. It's been good to us.
"We weren't able to convert it tonight."
And, as a result, the Heat — who were losing late in the fourth quarter of the final play-in game against the Chicago Bulls before going on a late run to close out that game just to advance to the playoffs — are moving on to face the New York Knicks in a renewal of one of the classic rivalries in NBA history, which will tip off Sunday afternoon at Madison Square Garden.
The Bucks, meanwhile, are now being discussed in a much less enjoyable part of NBA history: being on the losing end of an upset on a scale that few others can approach.
The Bucks were the consensus favorites to win the NBA title at sportsbooks entering the playoffs. Milwaukee was around a -1,200 favorite to defeat Miami in their opening-round series.
The Seattle SuperSonics were massive favorites when the Denver Nuggets famously upset them in 1995, but that was a five-game series. The Bulls were huge favorites in the first round of the 2012 playoffs against the Philadelphia 76ers, but that series irrevocably changed when Derrick Rose tore an ACL in the closing minutes of Game 1.
The best comparison is the 2007 Dallas Mavericks, who lost in six games to the "We Believe" version of the Golden State Warriors. But even that Golden State team won the season series with Dallas and matched up well with the 67-win Mavs.
Ultimately, though, exact placement on such a list doesn't matter. What does is that the top seed in the East — and the favorite to win the title — has seen its season end in stunning fashion far earlier than expected.
"Next year, we're going to come back and try to be better," Antetokounmpo said, as part of a longer answer when asked whether this season was a failure. "Try to build good habits, try to play better, not have 10-day stretches where we play bad basketball. And, hopefully, we can win a championship."