Jays demolish Rays 20-1 behind Vladdy's 6 RBIs
Vladimir Guerrero Jr. had a 423-foot grand slam and six RBIs to help the Toronto Blue Jays rout the Tampa Bay…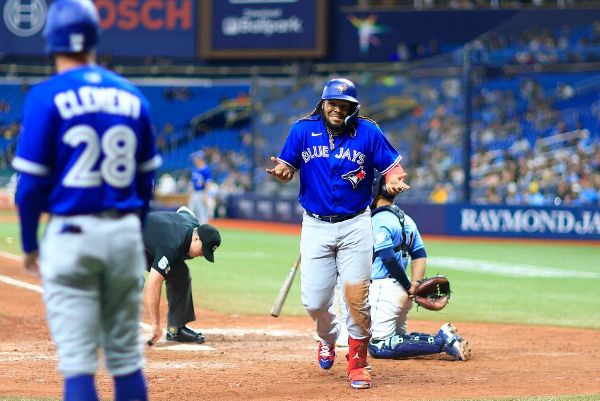 ST. PETERSBURG, Fla. — Vladimir Guerrero Jr. had six RBIs, and the Toronto Blue Jays stopped a five-game losing streak with a 20-1 rout of the Tampa Bay Rays on Tuesday night, scoring their last 10 runs off position players.
Guerrero put Toronto ahead with an RBI single off Taj Bradley (3-1) in the first, had a run-scoring single in the fifth that opened a 10-0 lead and hit a 423-foot grand slam in a nine-run ninth against Luke Raley.
Guerrero is hitting .300 with eight homers and 33 RBIs. His six RBIs were one shy of his career high.
All 12 Toronto batters in the game had hits, and the Blue Jays finished with 27 hits — their most since getting 29 against the Boston Red Sox in a 28-5 win last July 22.
Tampa Bay entered with the second-fewest runs allowed in the majors at 170 and gave up its most since a 20-8 loss at Boston on Aug. 11, 2021. The Rays have the best record in MLB, with a .714 win percentage; the 19-run loss is the worst by any team in MLB history with that winning percentage at least 40 games into the season, according to ESPN Stats & Information research.
George Springer had four hits for Toronto, while Bo Bichette, Whit Merrifield, Danny Jansen and Guerrero had three apiece. Springer hit his seventh homer, a solo drive in the third.
Raley, an outfielder and first baseman, allowed seven runs and eight hits over 1⅔ innings. He threw 27 pitches of 47 mph to 54 mph, striking out Guerrero in the eighth.
Catcher Christian Bethancourt entered with two outs in the ninth and gave up Daulton Varsho's RBI single and Jansen's two-run homer.
Raley's ERA is 30.38 after his second mound appearance this season. Bethancourt's ERA is 81.00. Relief pitcher Zack Burdi gave up six runs in the fifth, five of them earned.
Toronto's Jose Berrios (4-4) allowed one run, five hits and two walks, striking out five.
Isaac Paredes homered for the Rays, who dropped to 22-5 at home this season.
Tampa Bay leads the majors with 95 home runs.
Bradley gave up four runs and nine hits in four innings.
The Associated Press contributed to this story.