Allen: Gruden visited to help Saints with Carr
Saints coach Dennis Allen said Tuesday that the main purpose of Jon Gruden's visit last week was to talk with the…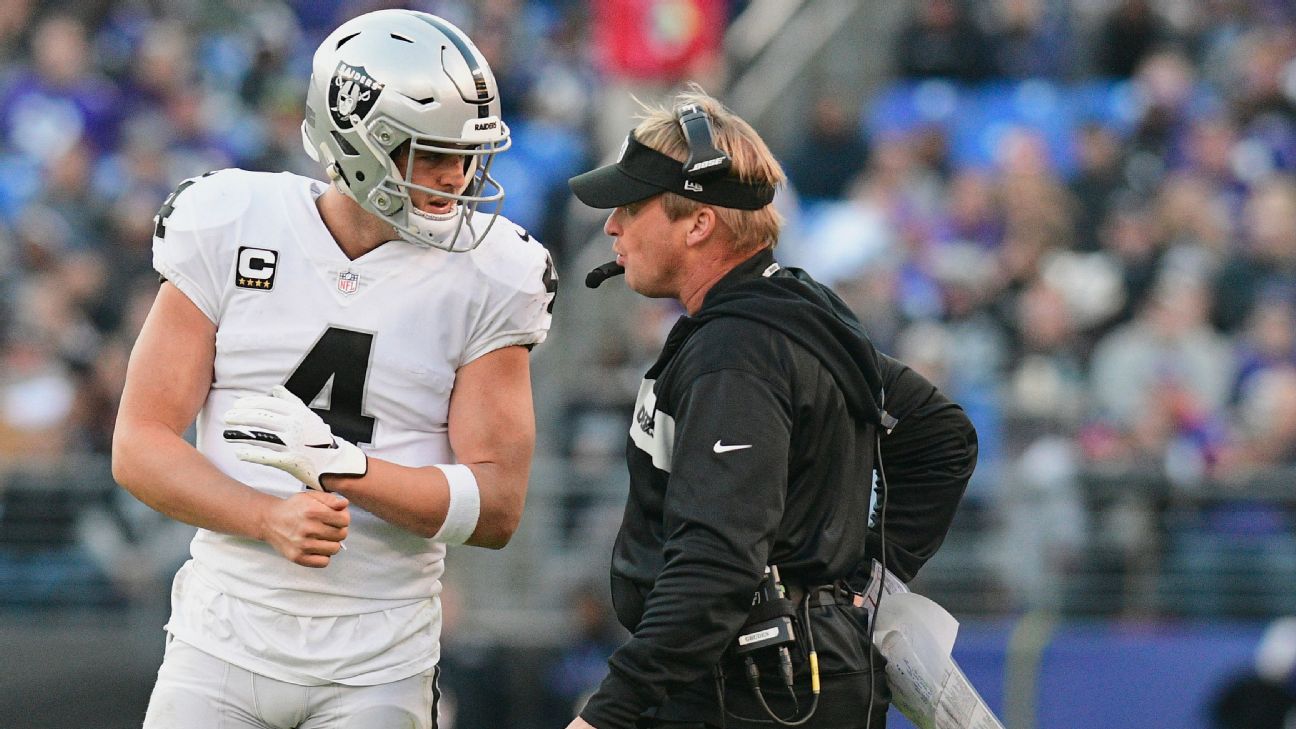 METAIRIE, La. — New Orleans Saints coach Dennis Allen said that a visit with former Las Vegas Raiders coach Jon Gruden doesn't foreshadow any major overhaul of the team's offense.
Gruden attended several practices last week and visited with the Saints' offensive coaches and quarterbacks as they went through their first full week of offseason practices. Allen said that the main purpose of the visit was to pick Gruden's brain about new Saints quarterback Derek Carr, who played under Gruden from 2018 until Gruden resigned as head coach of the Raiders in 2021.
"Obviously, Jon's a guy that has a lot of experience with Derek and Derek has had his most success under Jon Gruden," Allen said at the conclusion of the Saints' practice session Tuesday.
"And so, we felt like bringing him in, having a chance to sit down and visit with him as an offensive staff, with the quarterbacks and just getting some new thoughts and ideas of things we might be able to implement. I would say this, I would say, offensively for a long time that I've been here, we've been pretty effective. So, I don't see us putting in a whole new offense or doing something dramatic. But if there's a few ideas that we could take from that, we felt like that would be beneficial."
Gruden has been out of the league since he resigned in 2021 following a report that emails he wrote over a 10-year period included racist, misogynistic and anti-gay language.
Carr spoke to the media shortly after Gruden resigned and said that it was a day that included emotions of anger and frustration.
"It was a lot to handle, I'll say it that way," Carr said at the time. "You all know me, man. I don't condone that kind of talk. I don't talk that way. My kids sure as heck will never talk that way and it's hard because I love the man so much."
Allen said that he didn't have concerns about any backlash surrounding Gruden's visit and said it was something they've done with several coaches over the years. He said everyone involved came away with a positive experience.
"No, look, you ask everybody that was involved and they thought it was really beneficial for our football team," Allen said. "And look, we're going to look at any avenue that we can to try to improve. So that was one area we thought, just bringing him in and having the opportunity to sit down and visit with him, would help us."