Volkanovski's reign continues in TKO of Rodriguez
Alexander Volkanovski solidified his reign as king of the featherweight division, unifying the 145-pound crown with a third-round TKO victory over…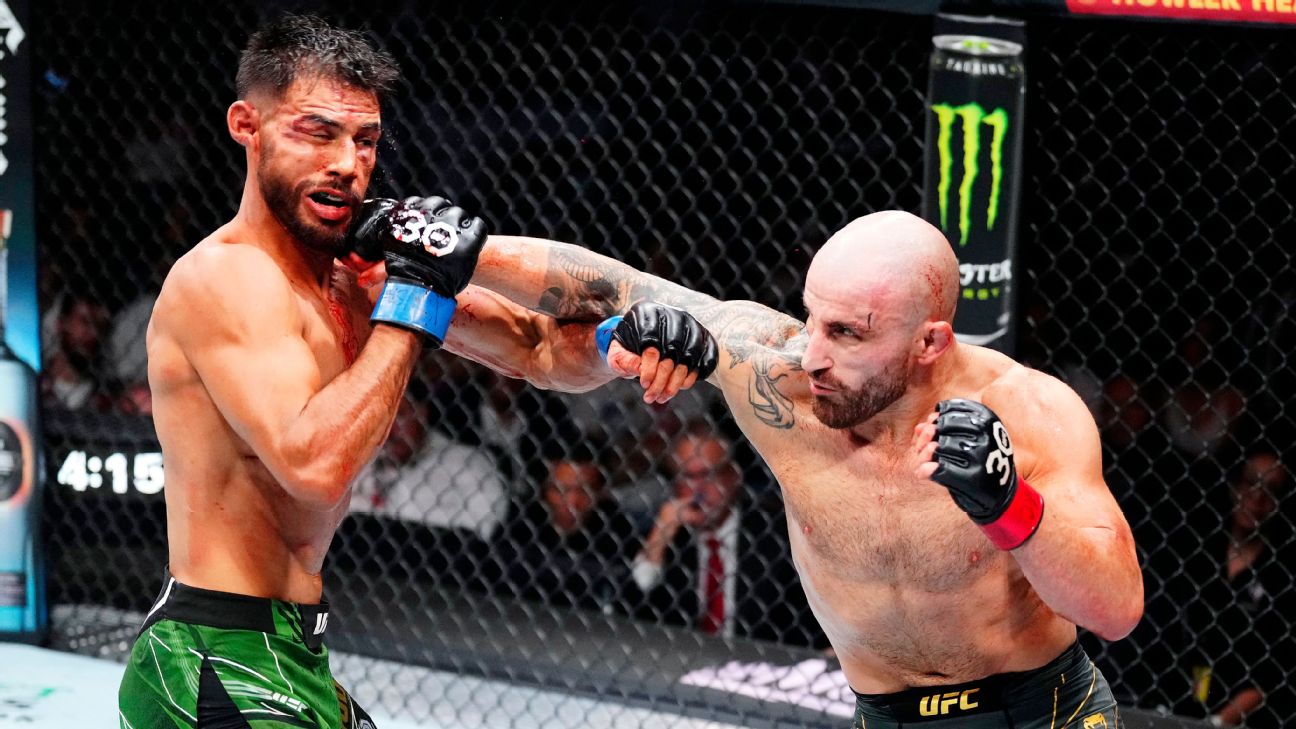 LAS VEGAS — Yair Rodriguez had his best moment of the fight, landing a grazing right head kick that snapped Alexander Volkanovski's head back, then following with a combination, including a left that landed flush to Volkanovski's jaw.
Volkanovski nodded his head in acknowledgment of the blows. Then, he delivered a bruising right hook of his own that hurt Rodriguez badly. Volkanovski went in for the takedown and fired off a barrage of big punches from top position en route to a TKO at 4:19 of the third round Saturday in the main event of UFC 290 here at T-Mobile Arena.
With the victory, Volkanovski retained the UFC featherweight title. Rodriguez came in as the interim featherweight champion.
"I'm the king of this division," Volkanovski said in his postfight interview in the Octagon. "No one is ever stopping me."
Before UFC 290, ESPN had Volkanovski tied for No. 1 on its pound-for-pound MMA list with UFC lightweight champion Islam Makhachev. At featherweight, Volkanovski was ranked No. 1 and Rodriguez was No. 3.
Volkanovski said some "fear" crept in during this training camp, because of how potent and creative Rodriguez's offense can be. Rodriguez, taller and longer than Volkanovski, is a striking specialist who attacks from all angles with all of his weapons, from fists to elbows to knees and whipping kicks. It certainly did not help Volkanovski that the crowd was overwhelmingly in favor of Rodriguez with several Mexican fighters like Rodriguez on the card in an area with a large Mexican American population.
But Volkanovski said he was able to turn a switch this week and focus on the task at hand.
"You've gotta expect the unexpected," Volkanovski said. "That's Yair. Anyone who knows this game knows how dangerous he was."
Volkanovski (26-2) moved up to challenge Makhachev in his previous fight, losing in a close unanimous decision. He said that is still a fight he wants down the road, but he likely needs surgery on his right arm. Volkanovski said he still would like to fight before the end of the year.
The Australian-born fighter had won 22 straight fights before the loss to Makhachev, including his first 12 in the UFC. Volkanovski, 34, has been UFC featherweight champion since beating Max Holloway at UFC 245 on Dec. 14, 2019. This was his fifth successful UFC featherweight title defense. Volkanovski is 11-0 in the UFC at 145 pounds.
"You talk about well-rounded," Volkanovski said. "I've shown I could grapple and wrestle and strike with the best of them. I'm coming for all the records. … The sky is the limit."
Rodriguez (15-4, 1 NC) won the interim title by beating Josh Emmett via second-round submission at UFC 284 in February. The fighter from Chihuahua, Mexico had won two in a row and three of four coming in. Rodriguez, 30, had only one loss since 2017 before Saturday.