Brexit: UK and EU agree Brexit delay to 31 October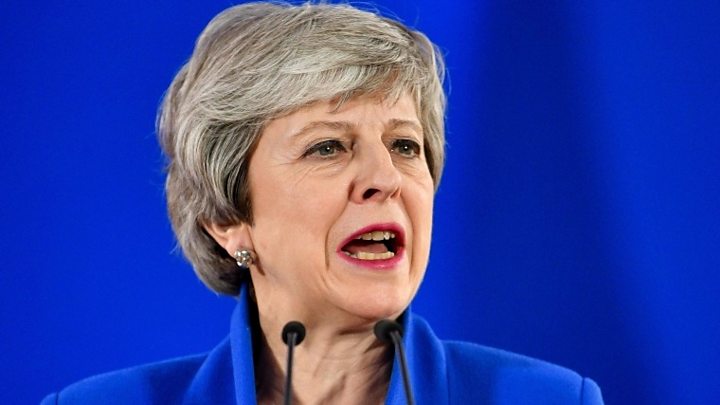 The UK and the EU have agreed a "flexible extension" of Brexit until 31 October, European Council president Donald Tusk has said.
Speaking after five hours of talks at an EU summit in Brussels, Mr Tusk said his "message to British friends" was "please do not waste this time".
Theresa May said the UK would still aim to leave the EU as soon as possible.
Irish Taoiseach Leo Varadkar said the UK must now hold European elections in May, or leave on 1 June without a deal.
Prime Minister Mrs May had earlier told leaders she wanted to move the UK's exit date from this Friday to 30 June, with the option of leaving earlier if her withdrawal agreement was ratified by Parliament.
Mr Tusk emerged from the talks – and a subsequent meeting with Mrs May – to address reporters at a news conference at 02:15 local time (01:15 BST).
He said: "The course of action will be entirely in the UK's hands: they can still ratify the withdrawal agreement, in which case the extension can be terminated."
Mr Tusk said the UK could also rethink its strategy or choose to "cancel Brexit altogether".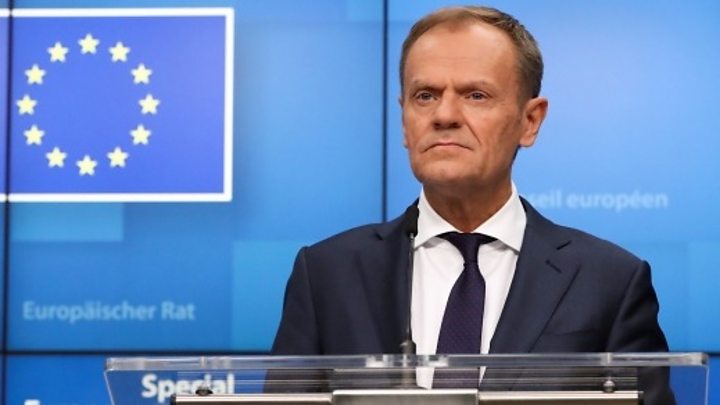 He added: "Let me finish with a message to our British friends: This extension is as flexible as I expected, and a little bit shorter than I expected, but it's still enough to find the best possible solution.
"Please do not waste this time."
European Commission President Jean-Claude Juncker said: "There will probably be a European election in the UK – that might seem a bit odd, but rules are rules and we must respect European law and then we will see what happens."
Mrs May then spoke to reporters at 02:45 local time (01:45 BST). She said that although the delay extends until 31 October, the UK can leave before then if MPs pass her withdrawal deal.
"I know that there is huge frustration from many people that I had to request this extension," she said.
"The UK should have left the EU by now and I sincerely regret the fact that I have not yet been able to persuade Parliament to approve a deal."
She added: "I do not pretend the next few weeks will be easy, or there is a simple way to break the deadlock in Parliament. But we have a duty as politicians to find a way to fulfil the democratic decision of the referendum, deliver Brexit and move our country forward.
"Nothing is more pressing or more vital."
The PM said that the UK "will continue to hold full membership rights and obligations [of the EU]" during the delay.
Risk of no-deal postponed
Fudge and can-kicking are the EU-familiar words that spring to mind at the end of this Brexit summit.
After all the drama and speculation leading up to the meeting, effectively all that happened here is that the threat of a no-deal Brexit has been postponed for another six months.
Time enough for the EU to hold European parliamentary elections, choose a new president of the European Commission and pass a new budget – without EU leaders having to keep one eye at least on the day-to-day dramas in the House of Commons.
Despite EU leaders' rhetoric beforehand, they granted this extension without hearing a convincing plan of Brexit action from Theresa May.
In the summit conclusions there is no evidence of the punitive safeguards mooted to ensure the UK "behaves itself" – refraining from blocking EU decisions – as long as it remains a club member.
Yes, EU leaders worry about who might replace Theresa May as prime minister. Yes, they're concerned these six months could fly past with the UK as divided as ever but their message to the UK tonight was: "We've done our bit. Now you do yours. It's up to you. Please use the time well."
The EU had been split over the length of delay to offer the UK and by law they had to reach a unanimous decision. Although other EU countries backed a longer delay, French President Emmanuel Macron pushed for a shorter extension.
The BBC's Katya Adler said that the date of 31 October was an indication that Mr Macron had "won the day". as his was the most hard-line voice in the room.
Speaking afterwards, Mr Macron said: "For me, this is a good solution."
He said EU leaders had partly decided to back a delay because Mrs May had explained she had started talks with the opposition party – "a first in decades in the British political system".
Malta's prime minister Joseph Muscat said the 31 October deadline was "sensible" as it "gives time to UK to finally choose its way".
The new deadline is one day before the next European Commission President – the successor to Mr Juncker – takes office.
Mr Juncker joked that if it results in a summit with another late-night meeting, he "may have to leave at midnight".
May's next steps
On Thursday, the PM will make a statement in the House of Commons
Talks between the government and Labour are also due to continue
Also on Thursday, Parliament will break up for its Easter break until 23 April – although further cross-party talks are expected to be held
Mrs May was called back into the summit after EU leaders had talked for five hours to find their compromise solution.
Before that, Mrs May had given a one-hour presentation putting forward her argument for the extension date to be 30 June.
This was the second time Mrs May has gone to the EU to ask for a Brexit extension.
So far, MPs have rejected the withdrawal agreement Mrs May reached with other European leaders last year and the House of Commons has also voted against leaving without a deal.