Uber shares sink on stock market debut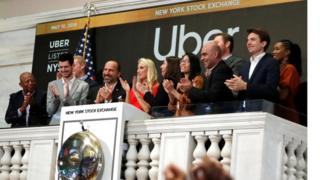 Uber shares slid to close 7.6% down on their first day of trading, as the highly anticipated share market listing failed to win over investors.
Boss Dara Khosrowshahi was among those who rang the opening bell of the New York Stock Exchange to begin trading.
By the end of the session shares were at $41.51 below the company's listing price of $45.
On Thursday, Uber sold 180 million shares at $45 each, raising $8.1bn of cash and valuing it at $82bn (£63bn).
Shares in the ride share company got off to a shaky start, opened trading at $42, and skidded to as low as $41.06 early on.
Uber is yet to make a profit and warned recently it may never do so.
Since its foundation in 2009, the company has lost about $9bn.
Mr Khosrowshahi tried to reassure investors disappointed by the falling share price on its market debut.
"My reaction (to the share price) is if we build and build well, shareholders will be rewarded. We're certainly not measuring our success over a day, it really is over the years," Khosrowshahi said.
Uber had originally suggested a price range of $44-$50 for its share price listing, valuing the company at up to $120bn.
Mr Khosrowshahi said the $45-a-share float price was influenced by the uncertainty in the global economic environment.
Shares will now trade under the symbol UBER, after the most anticipated US debut since Facebook in May 2012.
Uber co-founder Travis Kalanick, who departed the chief executive role to make way for Mr Khosrowshahi after questions were raised about staff culture at the firm, was also present at the exchange for Uber's debut.
Investors are betting on Uber's growth prospects as it diversifies into several other sectors. As well as the original ride-hailing business, Uber is developing driverless cars and has a food delivery operation, Uber Eats.
Bigger challenges lie ahead for Uber
By Michelle Fleury
Uber's stock price spluttered on its first day as a public company. Of course, the true test will not come in one trading day but in how it performs in the weeks ahead.
The biggest stock market debut in America in five years has raised questions about how companies like Uber should price their initial public offerings. A particular challenge for money losing tech start-ups.
Shares in Uber's chief rival, Lyft have disappointed since they made their stock market debut in March.
Keen to avoid that fate, Uber's underwriters priced shares at the low end of its $44-50 price range. But that was still perhaps not conservative enough.
No doubt firms like WeWork and Slack will be taking notes as they prepare to make their stock market debuts in the coming weeks.