Ted Baker founder Ray Kelvin resigns amid hugging row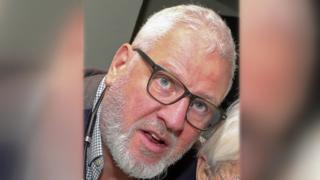 The founder and chief executive of fashion chain Ted Baker, Ray Kelvin, has resigned following allegations of misconduct, including "forced hugging".
Mr Kelvin had been on a voluntary leave of absence since December last year following the misconduct allegations.
These, which Mr Kelvin denies, are being investigated by the company.
In a statement, Mr Kelvin said the company had been his "life and soul" but "the right thing to do is to step away from Ted".
He said the past few months had been "deeply distressing" but he would support the team wherever he could offer "helpful advice".
Mr Kelvin, who owns 35% of the company, will not receive any severance pay, and any bonus payments he has earned for the past three years' performance will lapse.
In December, employees launched an online petition accusing him of inappropriate comments and behaviour.
The petition, on the workplace website Organise, said that more than 200 Ted Baker staff were finally breaking their silence after at least "50 recorded incidents of harassment" at the fashion group.
Staff claimed that as well as engaging them in unwelcome embraces, the brand's founder had asked young female members of staff to sit on his knee, cuddle him or let him massage their ears.
At the time, Mr Kelvin said that it was "only right" that Ted Baker's committee and board should investigate.
Mr Kelvin founded Ted Baker in 1988. It now has around 500 outlets in the UK and overseas.
Who is Ted Baker's Ray Kelvin?
Born in 1955 in north London
Started work in uncle's shop aged 11
Founded first store in Glasgow in 1988
Expanded to Manchester and Nottingham, then to London in 1990
Married twice
Awarded CBE in 2011
Moving forward
Ted Baker's acting chief executive Lindsay Page will continue in the role and the board has asked David Bernstein to act as executive chairman to provide additional support.
Mr Bernstein has indicated that he will continue in this position until no later than 30 November 2020, by which time a successor will be appointed.
In a statement, Mr Bernstein said: "As founder and CEO, we are grateful for his [Ray Kelvin's] tireless energy and vision.
"However, in light of the allegations made against him, Ray has decided that it is in the best interests of the company for him to resign so that the business can move forward under new leadership."
Mr Kelvin's statement said: "Difficult though this decision is given that Ted Baker has been my life and soul for over 30 years, I've decided that the right thing to do is to step away from Ted and allow the business to focus on being the outstanding brand it is so it can face 2019 with fresh energy and renewed spirit.
"As a shareholder in the business I'll support Lindsay in his leadership and be available to him and the team wherever I can offer helpful advice.
"I'm extremely proud of what we've achieved in building Ted Baker to the global brand it is today. Thank you to every single colleague, customer, supplier, and investor for your commitment to the business. We couldn't have done it without you and I'm so grateful.
Stockbrokers Liberum said Mr Kelvin's resignation was helpful to the company, describing his departure as "unfortunate but understandable". It added there would be minimal disruption to the business, which had "a strong team".
Shares in Ted Baker fell 4% when trading began on Monday, but quickly rebounded.
The company's shares had fallen sharply last week after it issued a profit warning, which it said was due to currency movements, product costs and a writedown on unsold stock.
It said full-year profit for the year to 26 January would be about £63m, compared with forecasts of £73.8m.
The firm's shares were also hit late last year by the hugging controversy.
Are you a current or former Ted Baker employee? Share your experiences by emailing haveyoursay@bbc.co.uk.
Please include a contact number if you are willing to speak to a BBC journalist. You can also contact us in the following ways: