Flybe cancels flights amid redundancy talks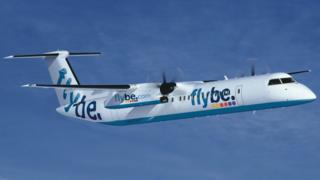 Regional airline Flybe has cancelled dozens of Wednesday morning flights as it enters discussions over potential job losses.
The company blamed an industry-wide shortage of pilots for the delays, as well as its own pilots taking holidays.
Flights from Belfast City Airport and Birmingham are among those affected. Most of the flights are within the UK.
The airline said it would like to "sincerely apologise for any inconvenience caused".
The discussions over jobs are at an early stage and the company will try and avoid job losses by filling internal vacancies with existing staff, including roles at other bases, Flybe's chief executive Christine Ourmieres-Widener told BBC Radio 5 live.
'Follow the rules'
The company is "engaging with all impacted crew", she said.
Of the delays, she said the company would "follow all the rules of compensation" and that "we are expecting to go back to normal operation as soon as possible".
While the disruption was widespread, it only affected 5% of flights, she insisted.
Cardiff Airport boss Deb Barber said: "We understand Flybe is in the process of consulting with a number of its employees, including its crew at multiple bases across its network, which includes Cardiff.
"Flybe's plan to restructure and reduce its jet operations across many bases is part of the company's long-standing objective to stabilise the business," she said.
The cuts will affect Doncaster and Exeter, as well as Cardiff, as the company seeks to drop expensive jets in favour of cheaper turboprop routes.
Unite the union regional officer Peter Coulson said: "Unite is seeking to minimise the potential job losses and secure assurances about Flybe's long-term future."
He urged the company to be forthcoming about its plan.
"It is essential that Flybe is fully transparent with its workforce about the exact situation facing the company. The current uncertainty is incredibly unsettling and is in danger of severely damaging morale at the company."
Sue Piercey, who lives in Bradford, told the BBC her flight from Leeds to Belfast today was cancelled.
"We received a curt email at 19:00 last night followed by an even shorter text message," she said. "No other flight options were offered."
Flybe are scheduled to fly three later services from Leeds to Belfast today, and none were offered to Ms Piercey, she said.
"Our holiday is totally off now, and I hope my insurance company can help me," she said, describing herself as "very annoyed today".
Customers also vented their frustration on social media.
Will disgruntled passengers receive compensation?
Kevin Peachey, personal finance reporter
Anyone whose flight is cancelled is entitled to choose between a refund paid within seven days, or an alternative flight (or bus) – even with a rival carrier.
Unless they have chosen a refund, it is the responsibility of the airline to get anyone with a ticket to their final destination as promptly as possible. In many cases, they should receive refreshments during any wait of two or more hours.
Passengers whose flight is cancelled, or who suffer long delays, can apply for extra compensation under EU rules.
As these are mostly short-haul flights, and the cancellations were last-minute, most will be entitled to compensation of €250 (£213).
Anyone who misses a connecting flight should talk to the airline operating that second flight but, according to consumer group Which?, they may have to make a claim for the cost of a new flight from their travel insurance.
On Monday, Flybe passengers on a new route were left with a six-hour coach journey when their aircraft was grounded.
The 18:40 service from Newquay to Heathrow could not take off on Sunday because of a "technical issue".
Cornwall Airport Newquay said passengers were offered "rebooking for another flight or ground transport to London Heathrow".
Flybe was bought early this year in a rescue deal following poor financial results.
Connect Airways, a consortium led by Richard Branson's Virgin Atlantic, paid a total of £2.8m for Flybe's assets and operations.
Aggressive expansion
The Exeter-based regional airline put itself up for sale last November, following a profit warning the previous month.
Virgin, Stobart Air and Cyrus Capital set up Connect Airways in December.
Flybe fell into difficulty in 2017, after what was considered a too-aggressive expansion strategy. The company ran up a near-£20m loss in the financial year ending 31 March 2017.
This January, one employee was moved to send an email accusing the firm's directors of ruining a profitable company.
The employee, a senior pilot, addressed the email to Flybe's chief executive, Ms Ourmieres-Widener.
"Congratulations, in two years at Flybe you and your fellow incompetent cohorts have managed to totally destroy a viable airline which was making profits when you took over," he wrote.
The BBC understands that the airline has suspended the pilot.
Flybe told the BBC that "an individual was suspended on 17 January 2019 in accordance with company policy".
---
Have your travel plans been affected by Flybe cancellations? Get in touch by emailing haveyoursay@bbc.co.uk
Please include a contact number if you are willing to speak to a BBC journalist. You can also contact us in the following ways: