Extinction Rebellion: Climate protests 'diverting' London police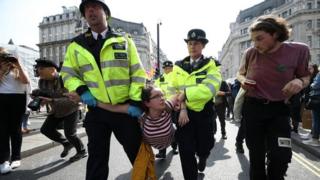 Police are being diverted from "core local duties" that keep London safe by the Extinction Rebellion protesters, Scotland Yard has said.
More than 500 people have been arrested since Monday, including three charged with gluing themselves to a train.
Police rest days have been cancelled over the bank holiday, as more than 1,000 officers are deployed in London.
Sajid Javid said the climate activists had "no right to cause misery" and the Met Police "must take a firm stance".
Officers have also been asked to work 12-hour shifts, while the Violent Crime Task Force has had leave cancelled.
"This will have implications in the weeks and months beyond this protest as officers take back leave and the cost of overtime," a Met Police spokesman said.
British Transport Police said it "continues to deploy additional officers throughout the London rail network to deter and disrupt further protest activity".
Heathrow Airport said it was "working with the authorities" following threats protesters may try to disrupt flights over the Easter weekend.
The Met said "strong plans" were in place to enable a significant number of officers to be deployed to Heathrow if necessary.
Police have made further arrests, but activists continue to block traffic at four sites around the capital.
Marble Arch, Parliament Square, Oxford Circus and Waterloo Bridge have been occupied by protesters since Monday.
Transport for London warned delays around those areas were expected "throughout the day".
Met Assistant Commissioner Nick Ephgrave has said police may need new powers to deal with non-violent protests on this scale, due to the large number of arrestees for police and courts to deal with.
Oscar winning actress and writer Emma Thompson joined protesters, saying it was the "first real hopeful movement I've joined".
Speaking from the blockade at Marble Arch, Ms Thompson said: "Our Planet is in deep danger, our grandchildren and our great-grandchildren are going to face problems the likes of which we cannot even begin to imagine.
"Unfortunately our governments haven't listened to us, so now we have to make them listen."
On Wednesday, a man glued himself to a Docklands Light Railway (DLR) train carriage in Canary Wharf while a man and woman were removed from the roof.
Cathy Eastburn, 51, from Lambeth in south London, Mark Ovland, 35 of Somerton in Somerset and Luke Watson, 29, of Manuden in Essex, appeared before Highbury Magistrates' Court charged with obstructing trains or carriages on the railway.
They all pleaded not guilty to the charge and will next appear at Blackfriars Crown Court on 16 May.
The Met said a total of 10 people had so far been charged in connection with the protests.
Some protesters have been seen returning to the blockades despite being arrested.
Police action to deter activists was having the "opposite" effect, according to environmental scientist Dominic Goetz who has returned to Waterloo Bridge following his arrest on Tuesday.
"I don't know whether I will be arrested again or not. If I am, I think the consequences will probably not be particularly severe," the 47-year-old said.
Met chiefs have also condemned footage of officers dancing with protesters.
The videos posted on social media, which showed police officers joining activists at Oxford Circus on Wednesday evening, have been condemned as "unacceptable behaviour".
"We expect our officers to engage with protesters but clearly their actions fall short of the tone of the policing operation," Cdr Jane Connors said.
In a letter to the home secretary, Mayor of London Sadiq Khan suggested cuts to police funding were restricting the Met's ability to cope with the demonstrators.
A group of demonstrators has been blocking Vauxhall Bridge for short periods of time as part of a "swarming" protest.
Similar intermittent roadblocks have also been formed by activists at Piccadilly Circus.
What is Extinction Rebellion?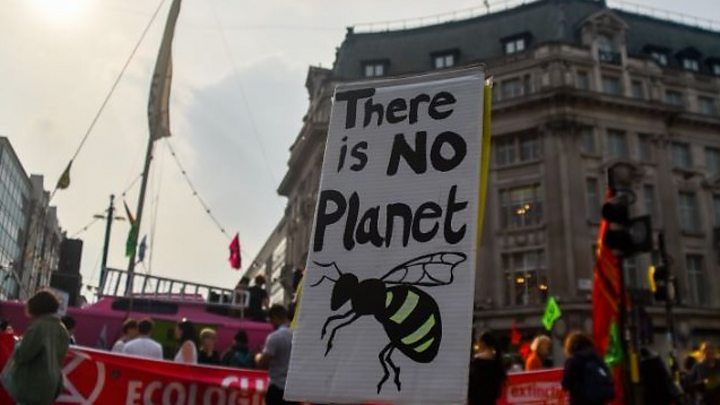 Since the group was set up last year, members have shut bridges, poured buckets of fake blood outside Downing Street, blockaded the BBC and stripped semi-naked in Parliament.
It has three core demands: for the government to "tell the truth about climate change"; to reduce carbon emissions to zero by 2025; and to create a citizens' assembly to oversee progress.
Controversially, the group is trying to get as many people arrested as possible.
But critics say they cause unnecessary disruption and waste police time when forces are already overstretched.