Greta Thunberg: Teen activist says future has been stolen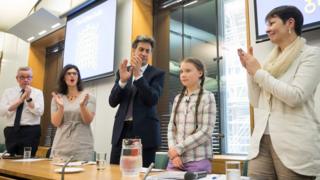 Climate change activist Greta Thunberg has said the future of her generation has been "stolen".
In a speech to MPs, she said: "That future has been sold so a small number of people can make unimaginable amounts of money."
The Swedish 16-year-old was invited to the UK after inspiring the school climate strikes movement.
Environment Secretary Michael Gove said "we have not done nearly enough" to combat climate change.
In her speech in Parliament on Tuesday, Miss Thunberg said she knew that politicians did not want to listen.
She told MPs: "You don't listen to the science because you are only interested in the answers that will allow you to carry on as if nothing has happened."
Mr Gove said that although governments have not done enough to tackle climate change, "in the past few years it has become inescapable that we have to act".
He said: "The time to act is now, the challenge could not be clearer – Greta, you have been heard."
Earlier, an empty chair was left for Prime Minister Theresa May as Labour leader Jeremy Corbyn, Liberal Democrat leader Vince Cable and Green Party leader Caroline Lucas met the environmental campaigner for a round-table discussion.
The Westminster leaders of the Scottish National Party and Plaid Cymru, Ian Blackford and Liz Saville Roberts, were also at the meeting. Mrs May was chairing a cabinet meeting and Downing Street said it had received no official request to attend.
Ms Lucas told Miss Thunberg there was a growing "sense of urgency" and that "more than ever, politicians have our ears open to your message".
'Non-violent disruption'
During Miss Thunberg's visit to the UK she has spoken at the Extinction Rebellion climate protests, given media interviews, addressed MPs in the Houses of Parliament and had a roundtable discussion with political party leaders.
The teenager sparked an international youth movement after she staged a "School Strike for Climate" in front of the Swedish Parliament in August last year.
Since then she has met Pope Francis and addressed the European Parliament. Speaking about her newfound fame, she said: "It's unbelievable, I can't really take it in."
Miss Thunberg, who says she gave up flying in 2015, travelled for two days by train to reach the UK.
She has said that her generation will not be able to fly except in emergencies "if we are the least bit serious" about preventing global warming greater than 1.5C.
Earlier, Miss Thunberg told BBC Radio 4's Today programme that her message for politicians was: "Listen to the science, listen to the scientists. Invite them to talk."
She said it was important for politicians to act because "most emissions aren't caused by individuals, they're caused by corporations and states".
Her arrival in the UK comes as Extinction Rebellion activists took over part of the Natural History Museum on Monday and marched on Parliament on Tuesday morning.
More than 1,000 people have been arrested since their protests began in central London a week ago.
Miss Thunberg, who spoke to the crowds in Marble Arch on Sunday, told the BBC that disruptive action "definitely has a lot of impact".
Asked whether it was necessary, she said: "As long as it's non-violent, I think that could definitely make a difference."
'No point in anything'
Miss Thunberg said she first heard about climate change aged about eight years old. "I was just very moved," she said.
"When I was 11 I became very depressed," she added.
"It had a lot to do with the climate and ecological crisis. I thought everything was just so wrong and nothing was happening and there's no point in anything."
After realising she could make a difference, she said she promised herself that "I was going to do something good with my life".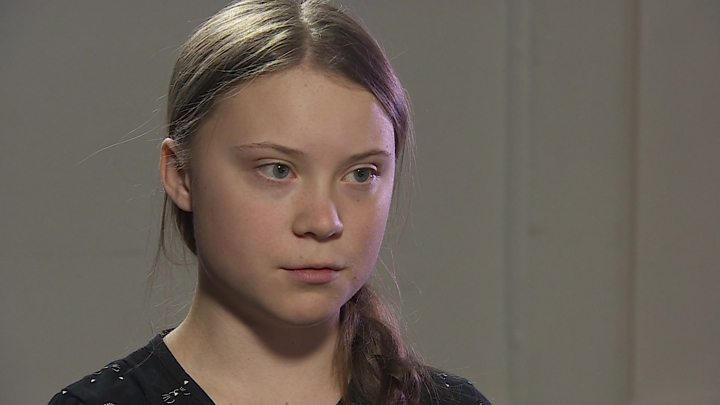 The teenager also admitted that, when she first told her parents of her plan to miss school every Friday, they "weren't very fond of that idea".
In the wide-ranging BBC interview, Miss Thunberg said that having Asperger's had helped her in life: "It makes me different, and being different is a gift, I would say. It also makes me see things from outside the box.
"I don't easily fall for lies, I can see through things. If I would've been like everyone else, I wouldn't have started this school strike, for instance."
Asked what she would say if she met US President Donald Trump, she said: "I can't really say anything to him that he hasn't heard before.
"Obviously he's not listening to the science and to what we have to say, so I wouldn't be able to change his mind."
In 2017, Mr Trump announced the US would withdraw from the 2015 Paris agreement on tackling climate change.
Sign up for a weekly chat about climate change on Facebook Messenger