Boeing uncertain how 737 crashes will hit profits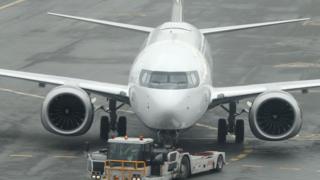 Boeing has said it still does not know how the crisis over the safety of its 737 Max 8 jets will affect its profits.
In its latest set of results, Boeing said that uncertainty over when the plane would be allowed to fly again meant it could not forecast profits for this year.
A fall in 737 deliveries has already led to a $1bn drop in revenues.
In March, a Max 8 belonging to Ethiopian Airlines crashed, killing all 157 passengers and crew.
It was the second crash involving a Max 8 jet in five months. The two disasters prompted aviation regulators round the world to ground the aircraft.
"Due to the uncertainty of the timing and conditions surrounding return to service of the 737 Max fleet, new guidance [on profits] will be issued at a future date," Boeing said in its first quarter results.
Boeing is temporarily cutting production of the 737 airliner from 52 planes a month to 42 from this month.
Despite the drop in production Boeing has not laid off staff and is maintaining order levels with many suppliers, all of which is keeping costs high. Meanwhile, some 50 deliveries of new 737 Max planes have been withdrawn.
The worldwide fleet of 737 Max planes totalled 387 aircraft at the time of the grounding.
Boeing is developing new software for the jet's Manoeuvring Characteristics Augmentation System (MCAS), an anti-stall system which has come under scrutiny since the crashes.
It said last week it was making "steady progress" on the path to certifying a software update which had been put through 135 test and production flights.
Chairman and Chief Executive Dennis Muilenburg said: "We have great confidence in the update of the software and with the test flights that have occurred. I have personally been on two of those flights and I have seen the confidence that the team has in the system."
Boeing said on Wednesday it expects a certification flight with the US Federal Aviation Administration in the "near term".
Boeing's commercial aircraft division managed to offset the impact of the Max 8 groundings by increasing production of its 787 planes from 12 a month to 14. Even so, the division still saw a 9% fall in revenue to $11.8bn from $12.9bn.
Boeing's net earnings in the first three months of the year were 13% lower at $2.15bn, reflecting a one-third drop in deliveries of the Max 8.