US lifts steel and aluminium tariffs on Canada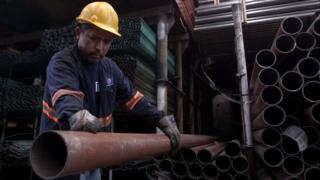 The US has reached a deal with Canada to lift tariffs on steel and aluminium imports in a move that could lead to approval for a new North American trade deal.
In a joint statement, the US and Canada announced that a 25% tariff on steel imports, and of 10% on aluminium, will end in 48 hours.
It is widely expected the US and Mexico will make a similar announcement soon.
The US implemented the tariffs last year on grounds of "national security".
Under the agreement, there will be no quotas on how much steel or aluminium the three countries buy from overseas.
However, the US and Canada will monitor imports and if a country is determined to be buying in too much, one of the other nations can request a consultation and potentially re-impose tariffs.
What does the agreement mean?
Getting rid of the tariffs is viewed as a key hurdle to approval for the US-Mexico-Canada Agreement (USMCA) trade deal which was signed in 2018. It replaced the North American Free Trade Agreement.
Providing that Washington and Mexico City also announce an agreement to lift levies on steel and aluminium, the US, Mexico and Canada will ask their respective governments to ratify USMCA.
Canada also announced that it would lift tariffs on US imports of steel and aluminium that it implemented last year in retaliation for the Trump administration's levies.
A win awaits for the 'tariff man'
Analysis by Michelle Fleury, New York business correspondent
The spotlight had been on rising trade tensions between the US and China.
So America's decision to lift tariffs on steel and aluminium coming from Canada and Mexico was a surprise bit of good news.
As it holds the line with China, the US is now pushing forward with a trade deal much closer to home.
Remember the USMCA trade agreement – meant to replace NAFTA? No?
Hardly a surprise. It has been languishing in the background.
For almost a year now these tariffs had been an obstacle to ratification of the deal. Canada and Mexico had vowed not to move ahead as long as they were in place. And several members of Congress had also raised objections.
This now raises the odds of it crossing the finishing line, opening up a new era of trade expansion in North America.
For Mr Trump, who loves tariffs so much he called himself the 'tariff man', this would be a big win.
And who knows, trade peace in North America might even strengthen his hand in negotiations with China.
It also targeted US farm goods as well as items like tomato ketchup and household products.
Canada's Prime Minister Justin Trudeau said on Friday: "These tariffs were harming workers and consumers on both sides of the border. As we look at moving forward with the new NAFTA, it didn't make a lot of sense to continue to have tariffs on steel and aluminium between our countries."
What about other countries hit with US tariffs?
European Union steel and aluminium exports to the US are still subject to the tariffs, but there has been some good news for trade relations between the two – on Friday President Donald Trump delayed a decision on whether to impose levies on cars and car part imports.
The White House has put back the decision by six months to allow more time for trade talks with the European Union and Japan.
Tariffs of up to 25% on imported cars and car parts were under consideration.
A report by the Commerce Department claimed that imports of foreign-made cars and auto parts into the US were a threat to national security.
The report has not been published, but in Friday's announcement Mr Trump cited its findings which conclude that US carmakers are missing out on revenues to invest in research and development (R&D).
It said: "The lag in R&D expenditures by American-owned producers is weakening innovation and, accordingly, threatening to impair our national security."
The president said he agreed with the study's finding that imported cars and trucks were "weakening our internal economy".
How are US relations with major trading partners?
The deal with Canada, as well as the delay in higher tariffs on EU and Japanese cars and auto parts, come at a critical time for the US and China – the world's two biggest economies.
On Monday, Beijing implemented retaliatory tariffs on US imports after Mr Trump lifted levies on a further $200bn of Chinese goods, following a breakdown in trade talks between the two nations.
The US President characterised it as a "little squabble".
However, shortly afterwards, Mr Trump declared a "national emergency" to protect US computer networks from "foreign adversaries".
While the announcement did not name any individual companies, it was widely perceived to be directed at Huawei, the Chinese telecoms equipment maker, which has faced claims its products could be used by China for surveillance.
Huawei has vehemently denied the allegations.