Niki Lauda, Austrian Formula 1 legend, dies at 70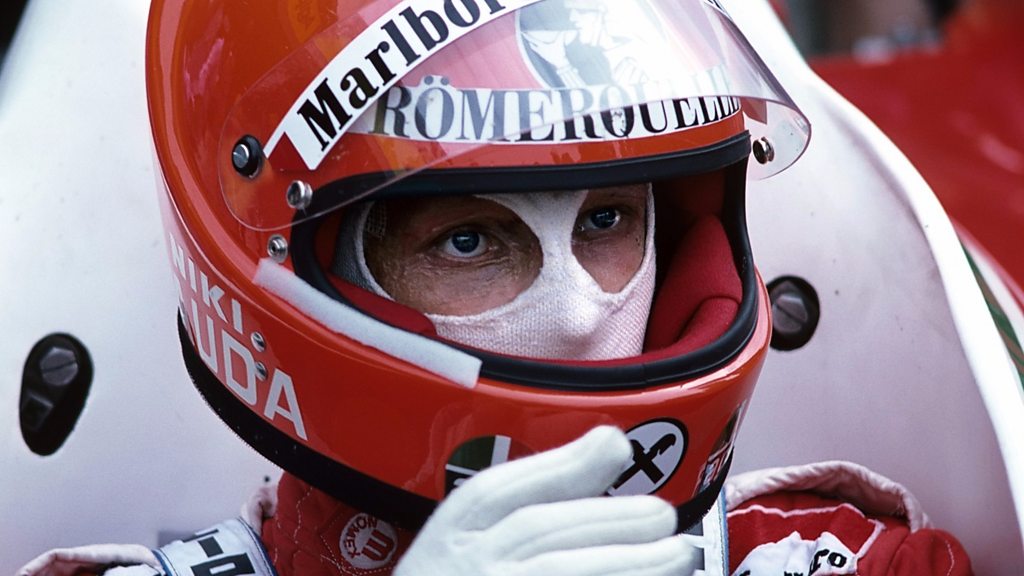 Three-time Formula 1 world champion Niki Lauda has died at the age of 70.
Lauda, who underwent a lung transplant in August, "passed away peacefully" on Monday, his family said.
The legendary Austrian, one of the best-known figures in motor racing, took the title for Ferrari in 1975 and 1977 and McLaren in 1984.
For many, he will be remembered for his remarkable recovery and return to racing after being badly burned in a crash in the 1976 German Grand Prix.
A new generation of fans was introduced to Lauda in the acclaimed 2013 film Rush, which detailed his rivalry with British driver James Hunt, the 1976 world champion.
Who was Niki Lauda?
Lauda, who was born in Vienna in February 1949, was a motor racing legend who went on to be a successful businessman following his retirement from the sport.
However, he was probably best-known for surviving a crash during the 1976 season which left him scarred for life.
On 1 August 1976, one year after winning his first title, he suffered third-degree burns to his head and face and inhaled toxic gases that damaged his lungs after his vehicle burst into flames at Nurburgring.
He was given the last rites in hospital but made an almost miraculous recovery and returned to racing, still bandaged, just 40 days later.
After his career as a racing driver, he became an airline entrepreneur and, most recently, a non-executive chairman for the Formula 1 Mercedes team, instrumental in bringing in British driver Lewis Hamilton, who has won five world championships.
"His unique achievements as an athlete and entrepreneur are and will remain unforgettable, his tireless zest for action, his straightforwardness and his courage remain a role model and a benchmark for all of us," his family's statement said.
However, ill health followed him into his later years and he underwent a lung transplant in August 2018.
He had previously had two kidney transplants, the second donated in 2005 by his then-girlfriend Birgit Wetzinger, a former flight attendant for his airline whom he married in 2008.
In January 2019, Lauda spent 10 days in hospital while suffering from influenza.
Lauda leaves behind his wife, their twins born in 2009, and three sons from previous relationships.
A legend in the truest sense
by Andrew Benson, BBC chief F1 writer
Niki Lauda was perhaps the most heroic and simply remarkable figure in the history of Formula 1, and yet the striking thing about him was how down-to-earth he was.
Here was a man who had cheated death, been given the last rites, and raced a Grand Prix car again a few weeks later with blood seeping into the bandages still covering the burns on his face.
But in person, Lauda was humble, practical, matter-of-fact and straightforward. There was no arrogance about him. He was warm, friendly, direct and wickedly funny, his humour often directed at himself, or at puncturing some of the pomposity that can sometimes infect Formula 1.
Lauda simply said it as it was, often in salty language. He was a man of integrity, and he was respected as much for his character as for his achievements. Which is really saying something.
He was a titan of the sport who lived a life beyond compare. A legend, in the truest, most absolute sense. He will be profoundly missed.
How have people reacted?
Mercedes said the passing of their "irreplaceable" chairman "leaves a void in Formula 1".
"We haven't just lost a hero who staged the most remarkable comeback ever seen, but also a man who brought precious clarity and candour to modern Formula 1," Mercedes team principal Toto Wolff said.
"It was our honour to call you our chairman – and my privilege to call you my friend," he added.
McLaren – the team behind his 1984 victory – said he would be "enshrined in our history" in a tweet.
Ferrari's Formula 1 team, with which Lauda won two world championships in 1975 and 1977, said he would "remain forever in our hearts".
Fellow drivers have also been adding their tributes throughout the morning.
British former F1 champion Jenson Button has called him a "legend" while Nico Rosberg, another former F1 champion, paid tribute to Lauda's "passion", "fighting spirit" and "your patience with us youngsters".
"Myself and… 100 million fans around the world whom you also so strongly inspired to never give up in the hardest of times are thinking of you and your family. Rest in peace," he said in a statement.