Mothercare sales plunge as losses widen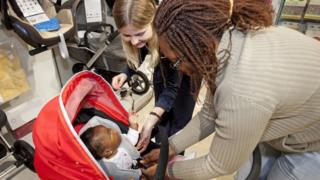 Sales in the UK arm of baby goods retailer Mothercare plunged almost 9% last year as its losses widened to £87.3m.
The firm said its sales had fallen following reduced consumer confidence after last year's restructuring.
That led to it closing almost a third of its stores. It is now left with 79 and will develop its online sales.
But boss Mark Newton-Jones said the firm was on a "sounder footing" after the sale of the Early Learning Centre.
The results for the year to 30 March – delayed from Thursday – detail the attempt by the retailer to rebound from what it describes as last year's "acute financial distress".
It underwent a company voluntary arrangement (CVA), which allowed it to shut 55 shops in the space of a year, rather than the four it would taken without the CVA.
'Text book recovery'
It also sold the ELC to the Entertainer for £11.5m and its Watford head office for £14.5m.
There was also a "fracture in the relationship" with the non-executive directors and directors, the company said.
"We remain determined to differentiate Mothercare as a textbook recovery case, in parallel demonstrating that boards can and should foster a greater alignment between their debt and equity providers," said chairman Clive Whiley.
Even so, the results detail a worst-case scenario – of further falls in sales and margins – under which it could renegotiate its debt, which has been cut from £44m to £7m,
Mr Newton-Jones – who left last year, only to be rehired a little over a month later – said: "Whilst this major restructuring activity has resigned in significant headline losses for the year, the business is now on a sounder financial footing."
'Global brand'
The £87.3m of losses include £47.3m of costs associated with the restructuring, including store closures and 800 job losses, and the discontinued operations of the ELC. Losses in the previous financial year were £72.8m.
Its shares rose 19% to 24p, although they traded at 245p in 2015.
Like-for-like sales – stripping out the impact of store changes – fell 8.9% in the UK. Online sales were down 8% and store sales down 15.8% because of what Mothercare described as declining footfall and nervousness from suppliers during the restructuring.
International sales, largely in China, India, Indonesia, the Middle East and Russia, fell 4.7% – less than the 5.9% a year earlier.
Operations are also being expanded in Vietnam, where there are six stores, with three more to open.
Competition
"The next phase of our strategic transformation plan is to develop Mothercare as a global brand, maximising the opportunities we see across many international markets," said Mr Newton-Jones.
Maureen Hinton, retail research director at GlobalData, said that sales would have fallen because of the store closures, but added that Mothercare was a "me-too" type of business, with similar products to rivals.
"There are so many better competitors for baby care and children's clothes. Supermarkets are so strong, Next has got very strong children's range and on the nursery side, there is JoJo Maman Bebe and John Lewis," she said.
Added to that are the second-hand sales through online forums such as eBay, she said.