Broncos lose Williams for year, Gregory for weeks
Broncos running back Javonte Williams will miss the rest of the season while Randy Gregory will miss multiple weeks, both because…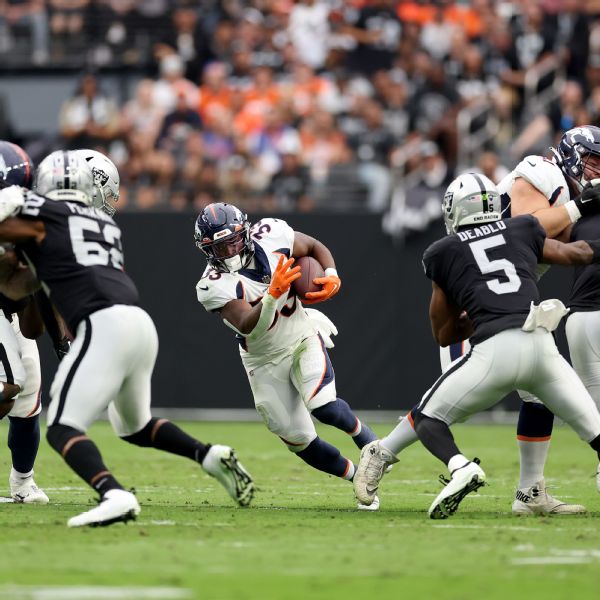 ENGLEWOOD, Colo. — The Denver Broncos' loss to the Las Vegas Raiders on Sunday came with a staggering price tag as running back Javonte Williams will miss the remainder of the season and outside linebacker Randy Gregory will miss multiple weeks, both due to right knee injuries.
Coach Nathaniel Hackett said Monday if the team had practiced, quarterback Russell Wilson (right shoulder) would have been limited. The Broncos, who play Thursday night against the Indianapolis Colts, released an injury report with projections of the players' participation had the team actually been on the field.
Hackett said he expects Wilson to play against the Colts.
"He got dinged up in the game, he's just a little sore," Hackett said. " … Right now, he's playing."
Williams' injury will have a significant impact on the team's offense. Sources said Monday that Williams tore the ACL (anterior cruciate ligament) and LCL (lateral collateral ligament) in his right knee. Hackett did not give the specifics of Williams' injury, but said he will miss the remainder of the season.
"Losing Javonte is so important, (he's) a dynamic player in this league," Hackett said.
Gregory will have arthroscopic surgery on his right knee in the coming days, Hackett said, and added "the ACL is OK, now we'll have the scope and we'll get more information." Gregory is expected to have the meniscus trimmed in the knee and the joint will be examined again during the surgery, sources told ESPN, confirming a report by NFL Network.
Both Williams and Gregory had magnetic resonance imaging (MRI) exams Monday morning.
Gregory, who signed a five-year, $70 million contract this offseason, is expected to miss between two to six weeks, depending on his recovery, a source told ESPN's Adam Schefter, and Hackett said Monday no decision has been made yet about putting Gregory on injured reserve.
A move to injured reserve would mean Gregory would miss a minimum of four games.
Williams suffered his injury on the Broncos' first play of the second half in Sunday's 32-23 loss. Williams, who entered the game as the Broncos' leader in carries and rushing yards, stayed down on the field after a 1-yard loss.
The Broncos' medical staff checked his right knee before he was helped to the injury tent on the Broncos' sideline. Williams was not able to put his full weight on his leg as he was helped to the sideline. A few minutes later he was taken to the Broncos' locker room on a cart and ruled out for the remainder of the game.
The second-year running back then left the Broncos locker room in Allegiant Stadium on crutches as some of his teammates offered encouragement.
Mike Boone replaced Williams in the Broncos' lineup right after Williams went down. Melvin Gordon III had split time with Williams over the first three games of the season, but Gordon fumbled in the second quarter and the Raiders' Amik Robertson returned it 68 yards for a touchdown.
It was Gordon's fourth fumble of the season — the Broncos have lost two of them. Gordon got only two additional carries in Sunday's game.
"We'll have to disperse (the workload) between the guys that we'll have out there, who's ever out there is going to have to do the best job they can," Hackett said. "We have some good backs and we want to make sure we showcase them."
Asked about his confidence in Gordon given Gordon's struggle with ball security, Hackett said: "Melvin's a true pro, this is a guy who's been doing this for a long time," Hackett said. " … He knows that there was a mishap right there and it's a great opportunity for him to get back out on the field and prove himself.
" … He's running the ball really well, he's running downhill, he's exploding through the hole," Hackett added. "We want to see that continue, Like I said he's a true pro and I expect him to step up and have a great game."
A second-round pick by the Broncos in the 2021 draft, Williams came into the game with 175 yards on 37 carries over the season's first three weeks and was the Broncos' second-leading receiver with 15 catches over those three games. He had 28 yards on 10 carries Sunday before his injury.
"I have to (bounce back) for the team," Gordon said Sunday night. "… I made a mistake, first guys over there to cheer me up, to get me back right, them boys believe in me, I just got to be better."
The Broncos are planning to sign RB Latavius Murray off the Saints' practice squad, though it's unlikely that Murray will play this Thursday against the Colts, a source told ESPN, confirming multiple reports.
Hackett said on Monday that the team has a learning platform to get new players acclimated to the Broncos' schemes "so that they can start learning the system like it was day one."
"From the standpoint of bringing in a running back, anytime you bring somebody in, it's always hard to get them caught up with everything," Hackett said.