Northwestern to reconsider Fitzgerald's discipline
Northwestern, in a letter sent late Saturday night, announced it will reconsider penalties for longtime Wildcats coach Pat Fitzgerald after new…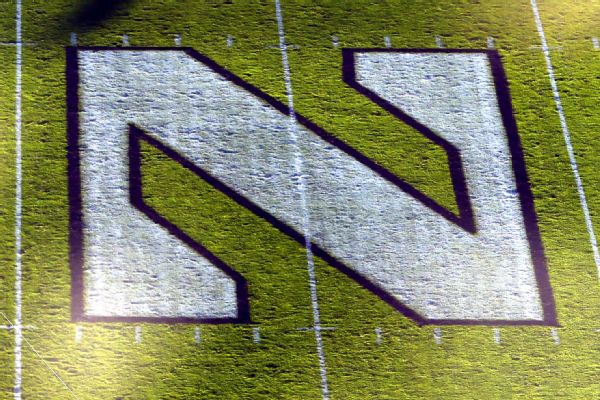 Northwestern will reconsider penalties for coach Pat Fitzgerald after new details emerged Saturday surrounding allegations of hazing in the football program.
University president Michael Schill, in a letter sent late Saturday to the Northwestern community, wrote that he "may have erred in weighing the appropriate sanction" for Fitzgerald, who began serving a two-week, unpaid suspension Friday. Fitzgerald's suspension was among the measures Northwestern announced after concluding the six-month investigation it commissioned into hazing allegations made by an "anonymous whistleblower."
Schill wrote that he spoke with the player's family and apologized for what he had to go through in the program. He also attempted to contact the former player, whose allegations were detailed in a report earlier Saturday from The Daily Northwestern.
Schill will speak with Northwestern's board of trustees and other university leaders to determine a new penalty for Fitzgerald, the team's coach since 2006 and a two-time national defensive player of the year for the Wildcats.
"In determining an appropriate penalty for the head coach, I focused too much on what the report concluded he didn't know and not enough on what he should have known," Schill wrote. "As the head coach of one of our athletics programs, coach Fitzgerald is not only responsible for what happens within the program but also must take great care to uphold our institutional commitment to the student experience. … Clearly, he failed to uphold that commitment, and I failed to sufficiently consider that failure in levying a sanction."
Earlier Saturday, Northwestern told ESPN that it would not comment on any specific allegations beyond the executive summary of the investigation released Friday.
The former player, who asked to remain anonymous, told The Daily Northwestern that sexualized hazing activities took place in the team's locker room. One common practice, called "running," involved a younger player being restrained while eight to 10 older players engaged in a sexualized act in the locker room. Versions of "running" took place during certain portions of the year, including Thanksgiving and Christmas.
"It's a shocking experience as a freshman to see your fellow freshman teammates get ran, but then you see everybody bystanding in the locker room," the former player told The Daily Northwestern. "It's just a really abrasive and barbaric culture that has permeated throughout that program for years on end now."
According to the newspaper, the former player reported his claims to the school in late 2022, and he spoke to investigators during the six-month, university-commissioned probe.
The school said the hazing claims could be "largely supported" and that "there had been significant opportunities to discover and report" what had happened, but investigators did not find enough evidence to prove coaches knew about the activities. Investigators also received varied perspectives on the conduct following interviews with current and former players.
Fitzgerald's suspension was one of several actions implemented by Northwestern. Other measures included no more preseason practices off campus in Kenosha, Wisconsin, where some of the alleged hazing occurred, and a new football locker room monitor who will not report to Fitzgerald or his staff.
Northwestern, earlier on Saturday, said in a statement to ESPN that it would not comment about the investigation beyond what it released Friday. Sources with direct knowledge told ESPN that investigators were already aware of the allegations outlined by the former player.
"Our first priority is to support and protect our students, including the young man who brought these matters to our attention and all student-athletes who had the courage to come forward in this independent investigation," Northwestern said in Saturday's earlier statement. "That is why the university immediately opened this investigation upon learning of the allegations and why we took decisive action once we ascertained the facts."
In a different statement sent to ESPN from the Northwestern football team on Saturday night, the players denounced hazing, while pronouncing their support for Fitzgerald and his "unwavering commitment to our team."
"We want to reiterate that as representatives of the Northwestern Football program, we do not tolerate hazing in any form," the statement read. "Hazing goes against our values of respect, integrity, and personal growth. We are committed to fostering a supportive and inclusive environment that promotes the well-being and development of every individual on our team."
The statement also labeled the allegations as "exaggerated and twisted."
"It is disheartening to see that the allegations brought forth against our team have been exaggerated and twisted into lies. These fabrications have been made with the intention of harming our program and tarnish the reputation of our dedicated players and coaching staff," the statement added. "We firmly deny the validity of these accusations and stand united in our assertion that they do not reflect the true character of our team."
Fitzgerald, a decorated alum who has coached Northwestern since 2006, said in a statement Friday that he was very disappointed to hear about the hazing allegations and had no prior knowledge of the incidents.
"Northwestern football prides itself on producing not just athletes, but fine young men with character befitting the program and our university," Fitzgerald said in his statement. "We hold our student-athletes and our program to the highest standards; we will continue to work to exceed those standards moving forward."