Sainsbury's and Asda vow £1bn merger price cuts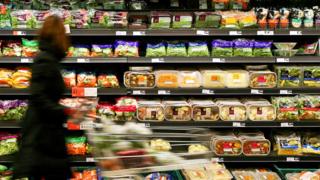 Sainsbury's and Asda say their planned merger will save them £1.6bn and allow them to pass on £1bn in price cuts to savers.
Sainsbury's also says it will cap the amount of profit it makes on petrol.
It says it will invite an independent body to check this promise in public.
The supermarket giants are battling to convince the Competition and Markets Authority (CMA) to allow them to merge, a move that would see them overtake Tesco to become the UK's biggest chain.
The CMA said last month it could block the merger between Sainsbury's, the UK's second-biggest supermarket chain and Asda the third biggest, currently owned by US giant Walmart.
The CMA says such a move would result in higher prices and less choice.
The CMA said that if it did allow the merger to proceed, it could force the sale of a large number of stores or even one of the brand names.
On Tuesday, Sainsbury's and Asda's joint statement said the CMA's provisional findings contained "significant errors".
In a robust statement, it criticised the CMA's threshold at which concerns were triggered. It said this was set at an "unprecedentedly low level", which, therefore, generated an unreasonably high number of areas of concern.
Sainsbury's and Asda's statement made a number of commitments:
To deliver £1bn of lower prices annually by the third year following completion of the merger. To invest £300m in the first year of the merger and a further £700m over the following two years, as the cost savings flow through. This would reduce prices by around 10% on everyday items.
Sainsbury's will cap its fuel gross profit margin to no more than 3.5p per litre for five years; Asda will guarantee its existing fuel pricing strategy.
The price commitments will be independently reviewed by a third party and the parties will publish the performance each year, holding them to public account
Sainsbury's will move to pay small suppliers (turnover with the business of less than £250,000) within 14 days; Asda will continue to pay its small suppliers within 14 days, in line with existing commitments
The CMA's final decision is due on 30 April.
This mega merger has been in doubt after the CMA raised a catalogue of concerns in its initial findings last month.
The tie-up would create a supermarket juggernaut leapfrogging Tesco in market share. The big three would become the big two controlling nearly 60% of the grocery market.
For Sainsbury's and Asda bigger is better. They say joining forces would make them better placed to fend off the likes of Aldi and Lidl.
Their main selling point is the plan to negotiate better prices with their biggest suppliers which could then be passed on to consumers. They pledge a 10% price cut on everyday products.
Today's update provides some more detail on that price commitment. It's part of their attempt to persuade the CMA to change its mind.
But given the scale of the regulator's concerns and how hard they will be to overcome, Sainsbury's faces an uphill task to secure the green light, even if it is promising £1bn a year to drop prices.