Assisted dying: Doctors' group adopts neutral position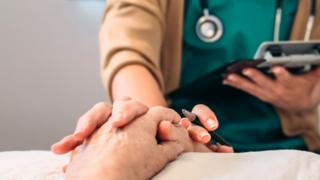 Hospital doctors have dropped their 13-year opposition to the concept of helping terminally ill patients die.
Following a poll of its members, the Royal College of Physicians has now adopted a neutral stance on the issue of assisted dying.
Some groups have spoken out against the change, saying a respected medical body's reputation has been damaged. Others called the decision "absurd".
Under UK law, it is illegal to encourage or assist a suicide.
Nearly 7,000 doctors voted in the online poll:
43% thought the college should oppose a change in the law
32% wanted the college to support a change
25% were neutral
And the college has shifted to a neutral stance because neither side achieved a majority of 60%.
However, a group of doctors opposed to any change in the college's position are planning to challenge the decision to ask for a majority result.
Royal College of Physicians (RCP) president Prof Andrew Goddard said: "It is clear that there is a range of views on assisted dying in medicine, just as there is in society.
"We have been open from the start of this process that adopting a neutral position will mean that we can reflect the differing opinions among our membership.
"Neutral means the RCP neither supports nor opposes a change in the law and we won't be focusing on assisted dying in our work.
"Instead, we will continue championing high-quality palliative care services."
'Absurd decision'
Dr Gordon Macdonald, chief executive of Care Not Killing, said most doctors didn't want a change in the law on assisted suicide or euthanasia.
"We hope that the RCP will listen to this message from their members and reverse their absurd decision to adopt a position that is the least popular and commands the support of just one in four of doctors," he said.
"This is why our view is clear, society should be doing everything in our power to prevent suicide, not assist it."
Campaign group Living and Dying Well said the shift had damaged the college's reputation as a professional body.
Analysis by Fergus Walsh, BBC medical correspondent
This shift by the Royal College of Physicians has no effect on the law and does not bring assisted dying any closer.
But it is symbolic that a respected body should change its stance and has been warmly welcomed by campaigners aiming to change the law.
The decision has infuriated and dismayed those opposed to the change, however, who argue that it is unreasonable to demand a supermajority in order to maintain the status quo.
The RCP has revealed that only one of the 39 specialisms it represents met the 60% threshold.
Of palliative medicine doctors, 80% voted to maintain the college's opposition to assisted dying.
This is a group who will spend more time than any other with patients at the end of life, so their view is significant.
The RCP also pointed out that it had adopted a neutral position until 2006 and so this move was a return to its previous stance.
The BMA, the doctors' trade union, is opposed to assisted dying. Motions calling for it to adopt a neutral position have been repeatedly rejected.
Dr John Chisholm, BMA medical ethics committee chair, said: "Our focus remains on improving the standard of palliative care available for patients, through calling for greater investment and support to enable staff to deliver the highest quality end-of-life care."