Obesity: Study of 2.8 million shows increased disease and death risks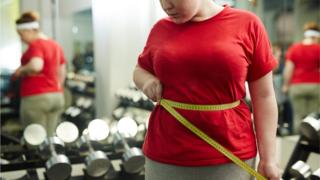 A major study has highlighted the scale of the obesity problem in the UK, with a significant risk of death and disease attached to weight gain.
People with a body mass index (BMI) of 30-35 were at 70% higher risk of developing heart failure than their healthy weight peers (18.25-25 BMI).
The study of 2.8 million adults showed even slightly overweight people were twice as likely to get Type 2 diabetes.
Public Health England said "sustained action" was needed to tackle obesity.
The study, to be presented at the European Congress on Obesity (ECO) in Glasgow, also showed:
For those with a BMI of 35-40, the risk of Type 2 diabetes was almost nine times higher, and 12 times higher for sleep apnoea
People with severe obesity (BMI of 40-45) were 12 times more likely to develop Type 2 diabetes and had a risk of sleep apnoea that was 22 times greater
People with a BMI of 40-45 had triple the risk of heart failure, high blood pressure, and dyslipidaemia (abnormal levels of cholesterol and other fats in the blood)
BMI of 40-45 was also linked to a 50% higher risk of dying prematurely from any cause
The study's author, Christiane Haase, of healthcare firm Novo Nordisk which funded the work, said: "With the number of people living with obesity almost tripling worldwide over the past 30 years (105 million people in 1975 to 650 million in 2016), our findings have serious implications for public health."
BMI and obesity: Where are you on the UK fat scale?
We calculate BMI using the standard formula of a person's mass in kg divided by the square of their height in metres (kg/m2) and display it to one decimal place.
Where a user's data is entered in imperial units, we first convert to metric and then carry out the BMI calculation.
The BMI result is assigned to a standard category:
Less than 18.5 – underweight
18.5 to 24.9 – healthy weight
25 to 29.9 – overweight
30 to 39.9 – obese (split into two categories for the new study)
40 and over – very obese (also known as morbidly obese)
The research found that the risk of developing serious health problems was highly dependent on whether or not people already had issues at the start of the study.
For example, having high blood pressure at the start of the study was strongly associated with developing dyslipidaemia, chronic kidney disease and Type 2 diabetes.
Researchers looked at health, death and BMI data from more than 2.8 million adults between January 2000 and July 2018 from the UK Clinical Practice Research Datalink.
This was linked with hospital data to estimate the risk for serious health problems.
But the authors stress that their findings show observational differences, so no firm conclusions can be drawn about cause and effect, and they point to a number of limitations:
the study participants must have seen their doctor and had their weight measured for a reason
other, unmeasured factors may have influenced the results
Victoria Taylor, nutrition lead at the British Heart Foundation, said: "More than a quarter of UK adults (28%) are obese and it's something that we urgently need action on."