Everest: Three more die amid overcrowding near summit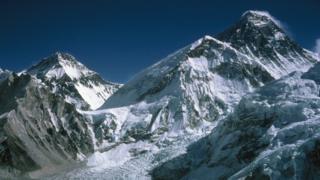 Three more climbers have died on Mount Everest, taking the death toll to seven in a week – more than the total for the whole of last year.
The three died of exhaustion while descending on Thursday.
It comes amid traffic jams near the summit as record numbers make the ascent, despite calls to limit the number of climbing permits.
Nepal has issued 381 permits at $11,000 (£8,600) each for the spring climbing season at the world's highest peak.
Two Indian climbers – Kalpana Das, 52, and Nihal Bagwan, 27 – died while scaling back down the mountain on Thursday.
Local tour organiser Keshav Paudel told AFP news agency that Bagwan had been "stuck in the traffic for more than 12 hours and was exhausted".
A 65-year-old Austrian climber died on the northern Tibet side of the mountain.
An Indian and an American lost their lives on the mountain on Wednesday, while an Irish professor, Séamus Lawless, is presumed dead after falling on 16 May.
Conditions this year have also been worse than usual, with high winds leaving a large number of climbers a narrow time frame to reach the summit.
Five people are known to have died on Everest and one in Lhotse in the spring season last year.
The number of people climbing Everest in 2019 could exceed last year's record of 807 people reaching the summit.
The rising numbers of people climbing – and dying – on Everest has led for calls for permits to be limited.
Ben Fogle, the adventurer and television presenter who climbed the mountain last year, called for "London Marathon style lottery for climbing permits" in a Twitter post.
What this striking Everest photo tells us
Mountaineer Nirmal Purja's photo of queues at Mount Everest has attracted attention around the world this week.
The photo shows the last ridge Mount Everest's summit, from the southern, Nepali side. Climbers can also reach the summit via the northern, Tibetan side, but the southern route is much busier.
If you look carefully, you'll see there are two rows of climbers. Because there is only one fixed rope at the summit, climbers ascending and descending the summit all have to share the same rope.
The vast majority of Everest climbers use oxygen masks and cylinders at the summit – oxygen levels there are only about 30% what they are at sea level.
Sources: Wild Yak Expeditions; Seven Summits Treks
Read more: Why Everest's summit gets so crowded