In farewell, Rodgers says 'heart' always with Pack
Aaron Rodgers will say hello to the New York Jets with an introductory news conference on Wednesday. He said goodbye to…
Notice
: Trying to get property 'display_name' of non-object in
/home/techyesp/public_html/wp-content/plugins/google-analytics-dashboard-for-wp/includes/popular-posts/class-popular-posts.php
on line
356
Notice
: Trying to get property 'display_name' of non-object in
/home/techyesp/public_html/wp-content/plugins/google-analytics-dashboard-for-wp/includes/popular-posts/class-popular-posts.php
on line
356
Notice
: Trying to get property 'display_name' of non-object in
/home/techyesp/public_html/wp-content/plugins/google-analytics-dashboard-for-wp/includes/popular-posts/class-popular-posts.php
on line
356
Notice
: Trying to get property 'display_name' of non-object in
/home/techyesp/public_html/wp-content/plugins/google-analytics-dashboard-for-wp/includes/popular-posts/class-popular-posts.php
on line
356
Notice
: Trying to get property 'display_name' of non-object in
/home/techyesp/public_html/wp-content/plugins/google-analytics-dashboard-for-wp/includes/popular-posts/class-popular-posts.php
on line
356
Notice
: Trying to get property 'display_name' of non-object in
/home/techyesp/public_html/wp-content/plugins/google-analytics-dashboard-for-wp/includes/popular-posts/class-popular-posts.php
on line
356
Notice
: Trying to get property 'display_name' of non-object in
/home/techyesp/public_html/wp-content/plugins/google-analytics-dashboard-for-wp/includes/popular-posts/class-popular-posts.php
on line
356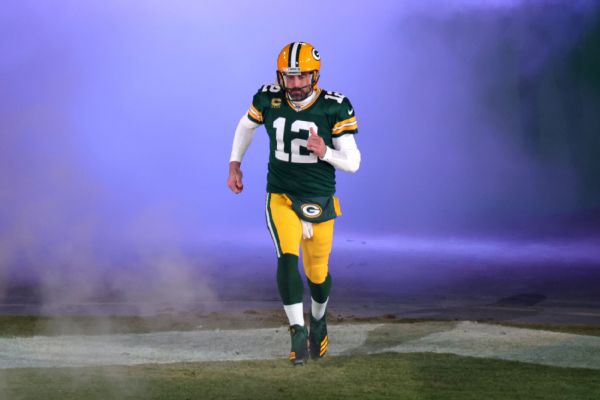 Aaron Rodgers will say hello to the New York Jets with an introductory news conference on Wednesday. He said goodbye to the Green Bay Packers in an Instagram post Tuesday evening.
What began with myriad thank-you notes — to the late Ted Thompson for drafting him, to his many coaches, teammates and behind-the-scenes staffers with the Packers and to the fans — ended with a message that looked to the future.
"This is not the end for us," Rodgers wrote. "I will see you again Green Bay, you'll always have my heart."
The Packers have already said Rodgers will someday have his No. 12 retired and his name placed on the Lambeau Field facade upon his election to the Pro Football Hall of Fame.
"I have so much respect for Aaron, not only the person but the player that he is," Packers general manager Brian Gutekunst said Monday shortly after the terms of the trade were agreed upon. "There's so much gratitude in what he's done for this organization."
Gutekunst said he wished he would have been able to speak with Rodgers before he made the trade, but that never happened. Their last conversation came in January, shortly after the season. Gutekunst said recently that Rodgers never returned repeated attempts to reach him.
"I know this: He'll always be a Packer," Gutekunst said. "He'll be one of the best who have ever done it around here. I have a lot of respect how he went about it, and he'll be missed. There's no doubt about it. Players like that don't come around very often; but at the same time, we're really excited where we're headed and what we're moving to do and wish him nothing but the best. Again, this has got to get finalized before all this is done. Just a lot of appreciation for him."
Gutekunst was among those Rodgers mentioned by name in his post along with former team president Bob Harlan, current team president Mark Murphy and team vice president Russ Ball "for your stewardship of the organization."
Before signing off, Rodgers told fans: "It was my honor to be your QB."