Giannis says Bucks' surprising exit 'not a failure'
Giannis Antetokounmpo took issue Wednesday night with a question about whether Milwaukee's season was a failure, saying, "It's steps to success"…
Notice
: Trying to get property 'display_name' of non-object in
/home/techyesp/public_html/wp-content/plugins/google-analytics-dashboard-for-wp/includes/popular-posts/class-popular-posts.php
on line
356
Notice
: Trying to get property 'display_name' of non-object in
/home/techyesp/public_html/wp-content/plugins/google-analytics-dashboard-for-wp/includes/popular-posts/class-popular-posts.php
on line
356
Notice
: Trying to get property 'display_name' of non-object in
/home/techyesp/public_html/wp-content/plugins/google-analytics-dashboard-for-wp/includes/popular-posts/class-popular-posts.php
on line
356
Notice
: Trying to get property 'display_name' of non-object in
/home/techyesp/public_html/wp-content/plugins/google-analytics-dashboard-for-wp/includes/popular-posts/class-popular-posts.php
on line
356
Notice
: Trying to get property 'display_name' of non-object in
/home/techyesp/public_html/wp-content/plugins/google-analytics-dashboard-for-wp/includes/popular-posts/class-popular-posts.php
on line
356
Notice
: Trying to get property 'display_name' of non-object in
/home/techyesp/public_html/wp-content/plugins/google-analytics-dashboard-for-wp/includes/popular-posts/class-popular-posts.php
on line
356
Notice
: Trying to get property 'display_name' of non-object in
/home/techyesp/public_html/wp-content/plugins/google-analytics-dashboard-for-wp/includes/popular-posts/class-popular-posts.php
on line
356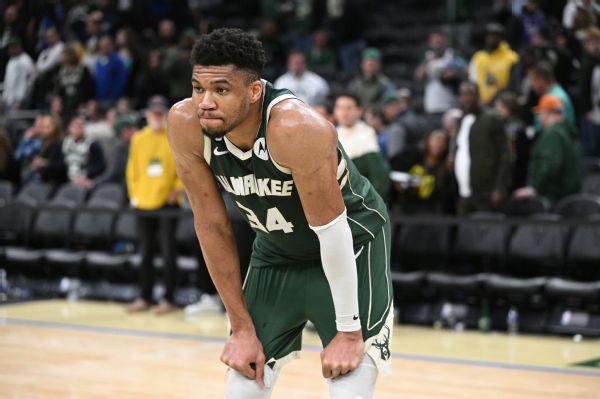 MILWAUKEE — Giannis Antetokounmpo took a deep breath and ran his hands through his hair before answering a question at his news conference Wednesday night following the Milwaukee Bucks' stunning 128-126 overtime loss to the Miami Heat in Game 5 of their first-round playoff series.
The Bucks, who owned the NBA's best record during the regular season with 58 wins, became the fourth No. 1 seed to lose to a No. 8 seed in a best-of-seven series in NBA history, but Antetokounmpo took issue with a question about whether Milwaukee's season was a failure.
"It's not a failure; it's steps to success," Antetokounmpo said. "There's always steps to it. Michael Jordan played 15 years, won six championships. The other nine years was a failure? That's what you're telling me?
"It's a wrong question; there's no failure in sports. There's good days, bad days. Some days you're able to be successful, some days you're not. Some days it's your turn, some days it's not your turn. And that's what sports is about. You don't always win. Sometimes other people win. And this year somebody else is going to win, simple as that."
The Bucks began the postseason as the betting favorites to win the NBA championship but fell to the Heat in perhaps one of the biggest upsets in playoff history. No 1-seed had lost in the first round to an 8-seed since 2012, when the Chicago Bulls lost to the Philadelphia 76ers following a season-ending injury to Derrick Rose.
Milwaukee led by 16 points entering the fourth quarter in Game 5, but Miami rallied and prevailed in overtime for the largest fourth-quarter comeback in a series-clinching win.
The Bucks were just 5-for-25 on field goals in the fourth quarter and overtime and finished with more turnovers (7) than made shots. Antetokounmpo shot 3-of-12 in the fourth and overtime, which included going 3-of-9 at the free throw line, for nine points and three turnovers.
Meanwhile, the Bucks had no answer for Heat star Jimmy Butler. Butler scored the game-tying field goal with half a second left in regulation to force overtime and finished the series averaging 37.6 points (a Heat franchise record) on 59.7% shooting, with 6.0 rebounds and 4.8 assists.
Antetokounmpo was critical of the Bucks' approach to defending Butler, saying that he would have liked to have guarded Butler more often one-on-one and that the Bucks should have made more adjustments.
"I don't know, double-team him more, try to make him pass the ball," Antetokounmpo said. "Maybe switch the matchup for a little bit, give Jrue [Holiday] a break. I don't think as a team we made the right [adjustment] or we didn't make as many adjustments as we could have against him."
The Bucks rarely double-teamed Butler. According to ESPN tracking data, Butler was double-teamed for a total of seven plays in the entire series — four of which came in Game 4. In Game 5, he did not face a single double-team.
Holiday was the Bucks' primary defender on Butler throughout the series, guarding Butler in the half court 244 times, nearly six times more than any other player on the team, per Second Spectrum tracking. Antetokounmpo missed Games 2 and 3 with a lower back contusion, but he matched up with Butler in the half court just 10 times in the first round.
"Out of respect, you've got to let the coach make the adjustment," Antetokounmpo said. "We have our best defender on him, but obviously there's conversation, whenever he gets tired, I can take him. … At the end of the day, I wish I could've guarded him more."
The Bucks had a pair of opportunities to win the game on the final possessions of the fourth and overtime, but coach Mike Budenholzer elected not to use his final timeouts in either scenario.
Budenholzer acknowledged he should have called timeout to advance the ball following Butler's game-tying shot in the fourth. But he also did not call timeout before the final possession in overtime, allowing Antetokounmpo to push the pace after grabbing a defensive rebound with 5.1 seconds remaining.
The Bucks never got a shot off on their final possession.
"That's how we always play," Budenholzer said after the game. "It's been very good for us. And we weren't able to convert it tonight."
The unexpected first-round exit begins what could be a monumental offseason in Milwaukee.
Brook Lopez will become an unrestricted free agent this summer. Khris Middleton has a $40 million player option for the 2023-24 season. The roster around Antetokounmpo is filled with veterans, but the Bucks began the season as the oldest team in the NBA. And Antetokounmpo will become extension-eligible in September before the start of next season. He has two years and a player option remaining on the five-year super max extension he signed in September 2020.
However, on Wednesday, the sting of another postseason disappointment was still fresh with Antetokounmpo. The Bucks entered the season with championship aspirations but are now forced to collect themselves.
"This has to be the worst postseason ever," Antetokounmpo said. "We have a number in [the locker room] and we were stuck on 15 [wins to the NBA Finals] … which is kind of hard to deal with. But at the end of the day, I feel like they were playing to beat us, and we were playing to win a championship."